Building Character in Schools Resource Guide
ISBN: 978-0-7879-5954-8
176 pages
December 2001, Jossey-Bass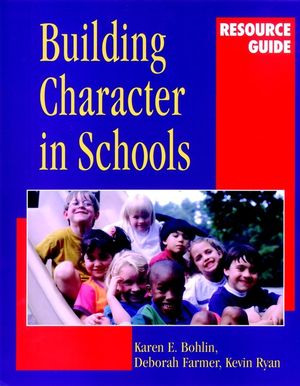 Building Character in Schools Resource Guide offers school administrators and teachers a practical handbook for developing, assessing, improving, and institutionalizing character education in their schools. It is filled with real-life examples-- both successful and unsuccessful-- of character education efforts; it clearly illustrates the differences among values, virtues, and points of view; and it presents guidelines for designing effective lessons, units, assessment, and classroom activities.
See More
Preface xi
1 Character Education: What Is It and Why Is It Important? 1
2 Views, Values, or Virtues 10
3 Building a Community of Virtue 30
4 Cultivating Character Through the Curriculum 38
5 Engaging Parents in Character Education 51
6 The Teacher's Work: Nurturing Character 64
7 Helping Students Take Command 74
Appendices Part 1: Good Ideas 83
A The Character Education Manifesto 85
B Character Education Reading List 89
Appendices Part 2: Action Strategies 93
C Internalizing Virtue: An Instructional and Schoolwide Framework 95
D 100 Ways to Bring Character Education to Life 97
E Friendship and Character in Film 105
F Virtue in Action: A K-8 Guide 107
G Helping Younger Students Understand the Virtue of Respect 109
H Columbine Elementary School, Grades K-5: Personal and Social Responsibility Standards 111
I Stepping Stone Activities for Grade 7: Justice 119
J Benjamin Franklin Classical Character School Discipline Reflection Form 121
K Sample Survey of Perceived School Environment: For Teachers, Parents, and Students 123
Appendices Part 3: Curriculum 127
L The Great depression: learning Courage and Hopw 129
M Sojourner's Example: Developing Courage 131
N Peppe the Lamplighter: Envisioning Diligence 135
O Developing a Yearlong Theme: Our Choices Reveal Our Character 139
P Elizabeth Barker, Prison Educator: Thinking About Choice 143
Notes 149
The Authors 153
Index 155
See More
Karen E. Bohlin
is executive director of the Center for the Advancement of Ethics and Character and assistant professor of education at Boston University. She and Kevin Ryan are coauthors of Building Character in Schools (Jossey-Bass, 1999).
Deborah Farmer is adjunct faculty member at Boston University, teaching student teachers, and an administrator at a K-8 school in Massachusetts.
Kevin Ryan is the founder and director emeritus of the Center for the Advancement of Ethics and Character at Boston University. He is editor or author of eighteen books including Moral Education and Reclaiming Our Schools.
See More