Integrating Information Literacy into the Higher Education Curriculum: Practical Models for Transformation 
ISBN: 978-0-7879-6527-3
288 pages
April 2004, Jossey-Bass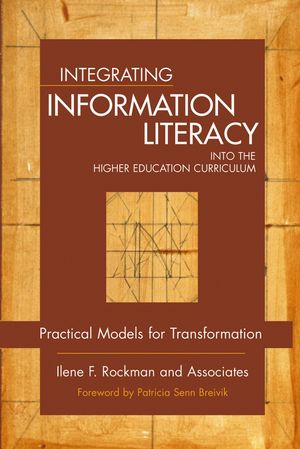 Research has shown that in order to develop information literacy skills, students must be given repeated opportunities throughout their college years to acquire and exercise these skills in their daily lives. Integrating Information Literacy into the Higher Education Curriculum is filled with information and practical examples from a wide variety of institutions that show how information literacy programs and partnerships can transform the higher education teaching and learning environments. The contributors to this important resource are experts in the field and include such leaders as Pam Baker, Amelie Brown. Lynn Cameron, Renee R. Curry, Susan Carol Curzon, Trudi E.Jacobson, Bonnie Gratch Lindauer, Ilene F. Rockman, and Patrick Sullivan. The Foreword is by Patricia Senn Breivik.
See More
Ilene F. Rockman is the manager of the Information Competence Initiative for the Office of the Chancellor of the twenty-three campuses of the California State University System.
See More
"This volume provides useful examples of how a good and energetic library can attempt to broaden and systematize its efforts…" (
Authors Journal Compilation
, Winter 2007) "This book should be read and acted upon by all higher educators who are trying to improve the academic performance, success, satisfaction, retention, and ultimate graduation rate of first-year students."
--John N. Gardner, executive director, Policy Center on the First Year of College, and distinguished professor of educational leadership, Brevard College
"This book offers practical advice and proven strategies for university faculty and librarians who want college students to become information literate."
--Lorie Roth, assistant vice chancellor, the California State University System
"A very practical guide for higher education leaders, faculty, and librarians to guide them in integrating information literacy throughout the curriculum so that students will graduate with appropriate information skills for productive work in the information society."
--Hannelore B. Rader, dean, University Libraries, University of Louisville
"With this work Ilene Rockman and associates have done a major service for educators needing pragmatic guidance in ensuring twenty-first century students achieve information mastery. Necessary reading!"
--Cheryl LaGuardia, head of instructional services, the Harvard College Library, Widener Library, research services, Harvard University
See More
Learn more about