Improving Learning Transfer in Organizations
ISBN: 978-0-7879-6540-2
352 pages
August 2013, Pfeiffer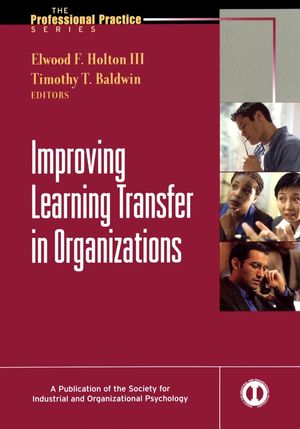 Improving Learning Transfer in Organizations
features contributions from leading experts in the field learning transfer, and offers the most current information, ideas, and theories on the topic and aptly illustrates how to put transfer systems into action. In this book, the authors move beyond explanation to intervention by contributing their most recent thinking on how best to intervene in organizational contexts to influence the transfer of learning. Written for chief learning officers, training and development practitioners, management development professionals, and human resource management practitioners, this important volume shows how to create systems that ensure employees are getting and retaining the information, skills, and knowledge necessary to accomplish tasks on the job.
Improving Learning Transfer in Organizations addresses learning transfer on both the individual and organizational level. This volume shows how to diagnose learning transfer systems, create a transfer-ready profile, and assess and place employees to maximize transfer. The book includes information on how to determine what process should be followed to design an organization-specific learning transfer system intervention. The authors focus on the actual learning process and show how to use front-end analysis to avoid transfer problems. In addition, they outline the issues associated with such popular work-based learning initiatives as action learning and communities of practice, and they also present applications on learning transfer within e-learning and team training contexts.
See More
Foreword xi
Eduardo Salas
Preface xiii
J. Kevin Ford
The Authors xv
Part One: Transfer of Learning in Today's Organizational Reality
1 Making Transfer Happen: An Action Perspective on Learning Transfer Systems 3
Elwood F. Holton III, Timothy T. Baldwin
2 The Strategic Challenge for Transfer: Chief Learning Officers Speak Out 16
Camden C. Danielson, William Wiggenhorn
3 New Organizational Forces Affecting Learning Transfer: Designing for Impact 39
Patricia McLagan
Part Two: Transfer Diagnosis and Intervention
4 What's Really Wrong: Diagnosis for Learning Transfer System Change 59
Elwood F. Holton III
5 Managing Transfer Before Learning Begins: The Transfer-Ready Learner 80
Sharon S. Naquin, Timothy T. Baldwin
6 Managing the Organizational Learning Transfer System: A Model and Case Study 97
Mary L. Broad
Part Three: From Knowledge to Performance Capability
7 Transfer Is Just a Symptom: The Neglect of Front-End Analysis 119
Richard A. Swanson
8 Beyond the Classroom: Transfer from Work-Based Learning Initiatives 138
Lyle Yorks
9 Transfer in an E-Learning Context 161
Erik R. Eddy, Scott I. Tannenbaum
10 The Transfer of Team Training: Recommendations for Practice 195
Janis A. Cannon-Bowers, Eduardo Salas, Laura Martin Milham
Part Four: From Performance Capability to Sustained Performance
11 Transfer Is Personal: Equipping Trainees with Self-Management and Relapse Prevention Strategies 227
Robert D. Marx, Lisa A. Burke
12 Managers as Transfer Agents 243
Reid A. Bates
13 Creating a Climate for Learning Transfer 271
Jerry W. Gilley, Erik Hoekstra
Part Five: Conclusion
14 The Bottom Line: Talking Points for Transfer Improvement in Organizations 307
Timothy T. Baldwin, Elwood F. Holton III
Name Index 311
Subject Index 317
See More
The EditorsElwood F. Holton III
is Jones S. Davis Distinguished Professor of Human Resource, Leadership, and Organization Development in the School of Human Resource Education at Louisiana State University.
Timothy T. Baldwin is Professor of Management and Subhedar Faculty Fellow at the Indiana University Kelley School of Business.
See More
More in this series