Write! Write! Write!: Ready-to-Use Writing Process Activities for Grades 4-8
ISBN: 978-0-7879-6582-2
336 pages
October 2002, Jossey-Bass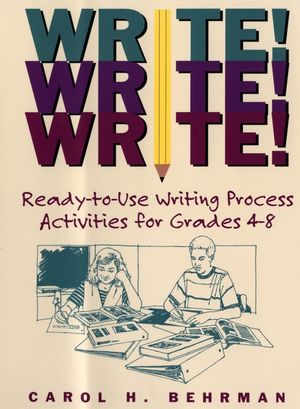 Over 265 stimulating activities that "turn students on" to writing, while guiding their practice in the writing process -- from prewriting and brainstorming, to first draft, revisions, and a final draft. Students get specific examples and step-by-step instructions that show them exactly how to write paragraphs, essays, letters, journals, and more. Best of all, students can complete all of these reproducible activities independently, with minimal direction from you!
See More
Preface ix
About This Resource xi
Unit One: Playing With Language 1
Examples: "The Timid Turtle (Fill-In Story)," "Contrary Mary," "Icky Squirmy," "Additional Alliteration," "Creating Critters".
Unit Two: Paragraph Writing 33
Examples: "Scrambled Paragraphs," "Captain Hook," "Paragraph Seeds," "Stop That Chop," "Too, Too Much".
Unit Three: Simple Essays 71
Examples: "I Didn't Know That Was There!" "One Hour in a Supermarket," "A Look at Me, Ten Years From Now".
Unit Four: More Complex Essays 115
Examples: "Great Friends," "Who Collects Stamps?" "The Amazing Man From Milwaukee," "A Perfect World".
Unit Five: Simple Letters 161
Examples: "Friends Across the Miles," "Guess What I'm Doing," "Dear Owner," "Dear Twentieth-Century Folks".
Unit Six: Business Letters 193
Examples: "You've Got a Complaint!" "I Can Help," "Dear Box Number," "Team Business Manager," "Summer Cash".
Unit Seven: Creative Writing 237
Examples: "Building Blocks," "Feeling Fine," "Say What?" "Irresistible Beginnings," "A Day in the Life of the Sillies"
Unit Eight: Variety Pack 275
Examples: "Rhyme Time," "Feeling Happy/Feeling Sad," "Chasing the News," "Classroom Flash," "An Interview With Who?"
See More
Carol H. Behrman has taught writing to students in grades 5-8 for more than 20 years.  Author of numerous nonfiction books for children and young adults, she has conducted workshops on the writing process for students and teachers.  In addition, Ms. Behrman is the author of three other resources on the writing process published by The Center, Hooked On Writing! (1990) Writing Activities for Every Month of the School Year (1997) and Writing Skills Problem Solver (1999).
See More