Science Puzzlers!: 150 Ready-to-Use Activities to Make Learning Fun, Grades 4-8
ISBN: 978-0-7879-6660-7
272 pages
September 1995, Jossey-Bass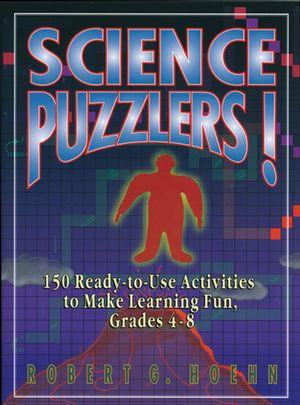 For the upper elementary and middle school teacher, this unique resource offers 150 science puzzle activities ranging from word scrambles, word searches and categorizing, to variations on crosswords and min-problems solvers to help you add challenge and humor to instruction while keeping lessons moving at a steady pace.
See More
Life Science
The Cell
Genetics
Evolution
Plants
Invertebrates
Vertebrates
Human Skeleton
Human Body Systems
Health and Human Diseases
Ecology
Physical Science
Energy
Sound
Light
Electricity/Magnetism
Matter
Atomic Structure
Chemistry
Heat
Force and Motion
Potpourri
Earth Science
Minerals
Rocks
Weathering and Erosion
Earth Features
Fossils
Meteorology
Oceanography
Nonrenewable Energy Sources
Renewable Energy Sources
Astronomy
See More
Robert G. Hoehn (B.A., San Jose State University) has taught earth science, physical science, and biology in the Roseville Joint Union High School District of California high schools since 1963 and uses wit and humor daily as an educational tool. Author of numerous publications including Earth Science Curriculum Activities Kit (1991) and Science Starters! (1993), he counts seven National Summer Science grants from the National Science Foundation among his many accomplishments.
See More