12 Hours to a Great Marriage: A Step-by-Step Guide for Making Love Last
ISBN: 978-0-7879-6800-7
304 pages
October 2003, Jossey-Bass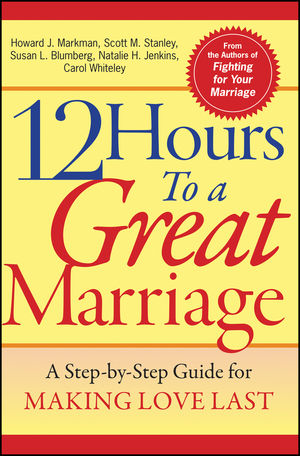 For the past twenty-five years, the internationally renowned marital researchers from the Center for Marital and Family Studies at the University of Denver have been helping couples around the globe replace loneliness with connection, frustration with understanding, fear with confidence, instability with commitment, revenge with forgiveness, and monotony with passion. Their program is called PREP, short for the Prevention and Relationship Enhancement Program, and it's been so successful that its creators have been featured on
Oprah, The Today Show,
and
20/20,
and its benefits have been documented in
The New York Times, USA Today, Womans Day,
and
Redbook.
Until now the only way you could experience this winning twelve-hour program was to attend a weekend workshop. But now, with 12 Hours to a Great Marriage, you can discover the simple, effective strategies that have helped thousands of couples— happily married, having issues, or planning to marry— to develop and protect their love, easily and at your own pace. Each chapter covers one of the key ingredients of the program, like Being Best Friends, Having Fun Together, and Protecting and enhancing Your Love Life, and shows you how to take the steps that research shows are the basis for a long-term, healthy, loving marriage. By practicing the simple skills, taking the thought-provoking self-tests, doing the fun and innovative exercises, and reading real-life couples' inspiring and informative stories, you'll find that in twelve short hours you'll be well on your way to having that great marriage you've always dreamed of.
See More
Acknowledgments.
Introduction: Stepping Up to the Plate.
PART I: Getting to First.
Hour 1: Taking a Positive Attitude.
Hour 2: Simple Techniques for Talking Safely and Clearly.
Hour 3: Handling Your Issues.
Hour 4: Solving Your Problems.
Hour 5: Great Ground Rules for a Great Relationship.
PART II: Reaching Second.
Hour 6: Having Fun.
Hour 7: Enhancing Your Love Life.
Hour 8: Sharing Values and Core Beliefs.
PART III: Rounding Third.
Hour 9: Meeting Expectations.
Hour 10: Forgiving.
PART IV: Safe at Home.
Hour 11: Being Friends.
Hour 12: Making the Commitment.
Epilogue: Keeping the Program in Play.
Getting More Help When There Are Serious Problems.
Resources and Training.
Selected Research and References.
About the Authors.
See More
Twelve hours to a better marriage, questionable; 12 hours to read the book, feasible. Three of the team of authors who wrote Fighting for Your Marriage expand on that title's speaker-listener techniques with advice on commitment, forgiveness, and expectations. The program represents a no-fuss beginning point for couples starting to realize that marriage is hard work. The writing is direct and effective, and the entire exercise is palatably presented like a baseball game (first base is talking, second is having fun, and so on). The usual, undocumented "reference shows" vagaries abound, unfortunately, and advice, though sound, can be both unoriginal ("how you and your partner treat each other is key") and generic ("work to identify and decrease negative behaviors and increase positive ones"). Still, the techniques are workable and deceptively simple (e.g., "soften your tone"), even if they depend heavily on reader determination. Less a rescue manual for troubled marriages than a Cliff's Notes for a successful one, this is an optional purchase for public libraries, which might also consider Laurel Mellin's The Pathway: Follow the Road to Health and Happiness. (
Library Journal
, November 15, 2003) "This book makes lasting love achievable."
— John Gray, author,
Men Are from Mars, Women Are from Venus
"I love this book! It's like hiring your own top-notch relationship coach for twelve hours and getting a lifetime's worth of lessons for creating a loving, lasting marriage."
— Michele Weiner-Davis, author, The Sex-Starved Marriage and Divorce Busting
"It actually makes working on your marriage fun. In fact, it introduces an approach that believes having fun is one of the hallmarks of a successful marriage."
— Diane Sollee, smartmarriages.com, and founder and director of the Coalition for Marriage, Family and Couples Education
"Delivered in a personal and engaging style, the most helpful book yet from the 'dream team' of marriage educators."
— William J. Doherty, Ph.D., professor, University of Minnesota, and author of Take Back Your Marriage
See More