Looseleaf
The 2005 Pfeiffer Annual: Human Resource Management
ISBN: 978-0-7879-6890-8
304 pages
December 2004, Pfeiffer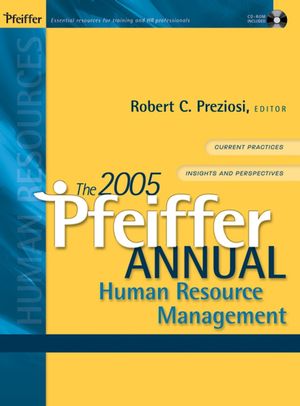 For more than thirty-five years,
The Pfeiffer Annual's
have been the most trusted resource for presenting the best current thinking about workplace performance, training, and organizational development. Now, the first edition of
The Pfeiffer Annual: Human Resource Management
builds on that great tradition to offer an essential source of guidance, opinions, and best practices on issues of interest and concern to HRM professionals.
The 2005 Pfeiffer Annual: Human Resource Management
provides instant access to a wealth of knowledge about human resource management, and proven tools that can be put to use with a minimum of preparation. The
Annual
delivers the most up-to-date thinking on issues that are core to the modern HR manager's role and includes a broad range of topics such as compensation and benefits, recruitment and selection, compliance and legal, employee and labor relations, wellness and safety, HR information systems, HR planning, and international HRM, among others. The
Annual
will become the anchor in your professional library, providing key knowledge, ideas, best practices, and benchmarking data.
See More
Preface.
Introduction to The 2005 Pfeiffer Annual: Human Resource Management.
Current Practices.
Leadership Assessment for Organizational Change: The Leadership 360 (Donna Pinkstaff Beach).
The Impact of Unions on Leadership and the Three R's (Thomas D. Cairns).
Leadership Onboarding: Successfully Assimilating New Executives (John E. DiBenedetto).
Employee Commitment and the Role of Leadership (Maggie W. Dunn).
The Human Impact on Organizational Change: The Ongoing Transformation of Office Depot (Dawn W. Hoffman).
Is Managing Diversity More than Just Being a Good Manager? (Kay Iwata).
Performance Enhancement: A Learning Process (Richard T. Rees).
How to Be Successful with Web-Based Employee Orientation (Maureen T. Smith).
Insights and Perspectives.
Employment Benefits: What's in Store for Employees in the Future? (Steven Cates).
Individual, Situational, and Organizational Factors Impacting Training Outcomes: A Conceptual Model and Discussion (Debra J. Cohen, Susan K. Lippert, and Jeffrey A. Mello).
Executive Assessment for the 21st Century (Jorge E. Fernández).
Mentoring in a New Century: The Challenge to Find a Win-Win Approach (Ronald C. Fetzer).
The HRM Challenge: Leading the Way in a Learning Organization (Karen Gaus).
Career Development: Developing and Managing Talent (Peggy G. Hutcheson).
Competency-Based Compensation (Sheri Johnson).
Mandatory Arbitration of Employment Disputes (Kristie J. Loescher).
The Dynamics of Mentoring (Jean McAtavey).
The Revolution of Relevance: Having Faith in the Worthiness of Work (James D. Showkeir and Joel P. Henning).
Developing Interpersonal Intelligence in Your Organization (Mel Silberman).
HR Goes to Business School (Rita Mehegan Smith).
Attention Deficit Hyperactivity Disorder in the Workplace: An Emerging Human Resource Issue (August K. Spector).
About the Editor.
Contributor List.
How to Use the CD-ROM.
Pfeiffer Publications Guide.
See More
Robert C. Preziosi is professor of management with the Huizenga School of Business and Entrepreneurship at Nova Southeastern University. He is an active member of SHRM and a former ASTD two-term Torch Award winner. He is the chair of the HRM master's degree program at NSU and has been named "Professor of the Decade."
See More