Textbook
Managing Health: An International Perspective
ISBN: 978-0-7879-6899-1
480 pages
September 2003, ©2003, Jossey-Bass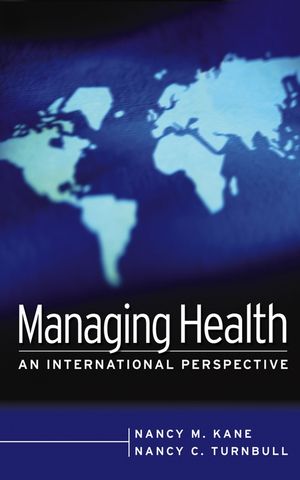 Managing Health provides students and professionals in health care systems with an international perspective on tools and mechanisms that have been used to manage cost, care, and health of populations. This important resource contains eleven teaching cases that professionals and students can use to gain a deeper understanding of the challenges of health care reform. It provides the opportunity for professionals to develop solutions to real-world situations. Managing Health's cases are all based on original research conducted during the last five years by Nancy M. Kane and Nancy C. Turnbull— two highly respected researchers in the field from the Harvard School of Public Health. The authors show that no country has a perfect approach to containing costs at affordable levels, improving quality and access, and advancing the health of populations and that the lessons learned in each country are valuable to other involved in health reform. The book offers insight into the roles played by the many stakeholders in the health system including government, employers, insurers, providers, suppliers, and consumers.
See More
Tables, Figures, and Exhibits.
Acknowledgments.
The Authors.
1. The Practicalities of Managing Cost, Care, and Health: Teaching Cases from Six Countries.
Part One: Managing Cost.
2. Managed Care in Shanghai: Another Long March or a Great Leap Forward?
3. Westinghouse and Managed Care: Does the Emperor Wear Clothes?
4. Enhancing Access to Pharmaceuticals in Brazil.
Part Two: Managing Care.
5. Moving from the Possibilities to the Practicalities: Health Care Reform in Krakow.
6. Germany's Ode to Alain Enthoven: Is Managed Care NewWine in Old Bottles or a New Rhine Whine?
7. Disease Management at Harvard Pilgrim Health Care: If You Build It,Will They Come?
8. Managing Care for the Dual-Eligible Population in Massachusetts.
Part Three: Managing Health.
9. Threat to the Public's Health or Leaders in Public Health? Managed Care in the Twin Cities.
10. The UAW Bargains for Health Benefits.
11. The Next Wave of General Practitioner Fundholding: Welcome or Farewell?
12. PCGs an d PCTs: Can You Make an Elephant Dance Like a Bee?
Index.
See More
Nancy M. Kane is professor of management at the Harvard School of Public Health. She teaches in executive and master's degree programs in the areas of accounting, financial analysis, and competitive strategy.
Nancy C. Turnbull is a lecturer in health policy at the Harvard School of Public Health. She teaches in executive and master's degree programs in the areas of managed care policy and provider payment systems.
See More
Learn more about