The Facilitator Excellence Handbook, 2nd Edition
ISBN: 978-0-7879-7070-3
420 pages
June 2005, Pfeiffer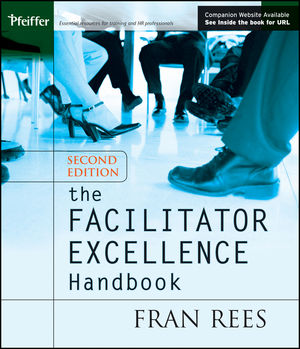 This is the thoroughly revised and updated edition of the best-selling
The Facilitator Excellence Handbook.
Written for both new and experienced facilitators, the second edition of
The Facilitator Excellence Handbook
offers a comprehensive guide for understanding the full range of skills, processes, and knowledge needed to become an effective facilitator.  The book addresses a variety of facilitation opportunities, challenges, and problems and also contains
A variety of verbal and nonverbal facilitation techniques
Step-by-step facilitation processes and tools
Information on how to facilitate conflict resolution in groups and how to facilitate difficult situations
Instructions for designing and leading group work
Examples of how various levels of facilitator competency are called for in different types of groups
Techniques for facilitating meetings, teams, virtual teams, and organization-wide projects
Discussions on the art of facilitating and what makes a great facilitator
See More
Introduction: Getting the Most from This Resource.
PART 1: Overview of Facilitation.
Chapter 1: Facilitation in Organizations Today.
Chapter 2: Role of the Facilitator.
PART 2: Basic Facilitation Skills.
Chapter 3: Verbal Techniques: What to Say.
Chapter 4: Nonverbal Techniques: What to Do.
Chapter 5: Recording Techniques.
Chapter 6: Reading the Group.
Chapter 7: Facilitating Consensus.
PART 3: Facilitator Methods and Tools.
Chapter 8: Generating and Organizing Material.
Chapter 9: Ranking and Evaluating Material.
Chapter 10: Facilitating Difficult Situations.
Chapter 11: Facilitating Conflict Resolution.
PART 4: Designing Effective Facilitations.
Chapter 12: How to Design a Facilitation.
Chapter 13: Organizing and Enhancing Group Work.
Chapter 14: Opening and Closing Activities.
PART 5: The Facilitator in Action.
Chapter 15: Levels of Facilitator Competency.
Chapter 16: Facilitating Meetings.
Chapter 17: Facilitating Teams.
Chapter 18: Facilitating Virtual Teams.
Chapter 19: Facilitating Organization-Wide Projects.
PART 6: Facilitator Excellence.
Chapter 20: Managing Yourself.
Chapter 21: The Art of Facilitating.
Chapter 22: What Makes a Great Facilitator?
Resources for Facilitators.
Index.
About the Author.
How to use the CD-ROM.
See More
The Author
FRAN REES is an experienced manager, consultant, and trainer in both the public and private sectors. She is the owner and principal consultant of Rees & Associates, a Phoenix-based training and consulting firm. She is the author of several books including How to Lead Work Teams: Facilitation Skills (Second Edition), Teamwork from Start to Finish, and 25 Activities for Developing Team Leaders, all from Pfeiffer.
See More