Textbook
Asking Questions: The Definitive Guide to Questionnaire Design -- For Market Research, Political Polls, and Social and Health Questionnaires, 2nd, Revised Edition
ISBN: 978-0-7879-7088-8
448 pages
April 2004, ©2004, Jossey-Bass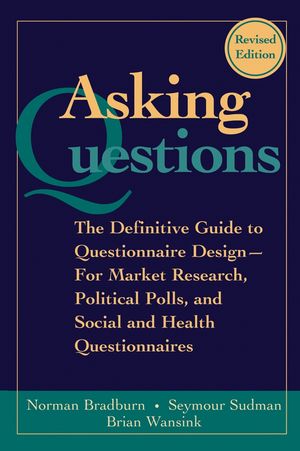 Since it was first published more than twenty-five years ago, Asking Questions has become a classic guide for designing questionnaires¾the most widely used method for collecting information about people?s attitudes and behavior. An essential tool for market researchers advertisers, pollsters, and social scientists, this thoroughly updated and definitive work combines time-proven techniques with the most current research, findings, and methods. The book presents a cognitive approach to questionnaire design and includes timely information on the Internet and electronic resources. Comprehensive and concise, Asking Questions can be used to design questionnaires for any subject area, whether administered by telephone, online, mail, in groups, or face-to-face. The book describes the design process from start to finish and is filled with illustrative examples from actual surveys.
See More
Preface and Acknowledgments.
The Authors.
Part I. Strategies for Asking Questions.
1. The Social Context of Question Asking.
Part II. Tactics for Asking Questions.
2. Asking Nonthreatening Questions About Behavior.
3. Asking Threatening Questions About Behavior.
4. Asking Questions About Attitudes and Behavioral Intentions.
5. Asking and Recording Open-Ended and Closed-Ended Questions.
6. Asking Questions that Measure Knowledge.
7. Asking Questions that Evaluate Performance.
8. Asking Psychographic Questions.
9. Asking Standard Demographic Questions.
Part III. Drafting and Crafting the Questionnaire.
10. Organizing and Designing Questionnaires.
11. Questionnaires from Start to Finish.
12. Asking Questions FAQs.
Bibliography and Recommended Readings.
Glossary.
Index.
Appendix A: List of Academic and Not-for-Profit Survey Research Organizations.
Appendix B: Illinois Liquor Control Commission: College Student Survey.
Appendix C: Faculty Retention Survey.
Appendix D: Kinko's: Open-ended Service Satisfaction Survey.
See More
Norman M. Bradburn is the Tiffany and Margaret Blake Distinguished Service Professor emeritus psychology, at the Harris Graduate School of Public Policy and the Graduate School of Business at the University of Chicago. He was a senior vice president at the National Opinion Research Center.
Seymour Sudman was a Walter H. Stellner Distinguished Professor of Marketing and deputy director and research professor at the Survey Research Laboratory at the University of Illinois, Urbana-Champaign. Professor Sudman died in 2000.
Brian Wansink is Professor of Marketing, Nutritional Science, Advertising and Agricultural and Consumer Economics at the University of Illinois Urbana-Champaign. He is also Research Professor at Cornell University and at Wageningen University in the Netherlands.
See More