Renaissance eLearning: Creating Dramatic and Unconventional Learning Experiences
ISBN: 978-0-7879-7147-2
320 pages
January 2005, Pfeiffer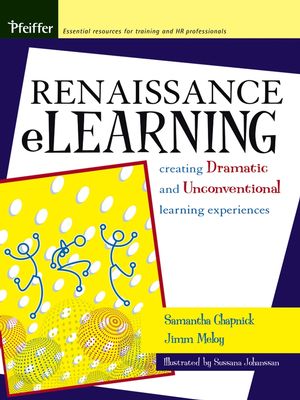 The same people who brought you the most widely used guide to preparing for eLearning are bringing passion back to your learning and training programs. The authors culled through over 400 eLearning programs, hundreds of popular entertainment pieces, and interviews with over 100 people in widely disparate areas to answer a simple question: What will make eLearning have as much impact as popular culture?
Renaissance eLearning
is the answer. It has everything you need to infuse eLearning with the same magnetism and addictive powers of the typical video game, song, movie, or other form of entertainment. With this book you'll learn:
How to make emotion and passion as important to eLearning as cognition and intellect
How (and why!) to empower learners to take charge of their own experience
How to get buy-in from stakeholders for alternative and higher return on investment programs
How to apply the same principles and techniques (including narrative and visual design) used by masters over the centuries to grab attention, foster learning, and have a lasting impact on participants
How to get the research and information you need without relying on self-proclaimed gurus and exorbitantly priced analysts
How to find and work with the affordable creative talent needed to make your plans a reality
See More
DEDICATION.
ACKNOWLEDGMENTS.
MEET OUR CASE STUDIES AND INTERVIEWEES.
CHAPTER 1: FROM "HOW TO?" TO "HOW ABOUT…?"
Open Your Mind to New eLearning Possibilities.
CHAPTER 2: THE CREATIVE ECONOMY IS COMING!
Why a New eLearning Paradigm Is Needed.
CHAPTER 3: FROM ANDRAGOGY TO HEUTAGOGY
Consider True Self-Directed Learning, If You Dare.
CHAPTER 4: LIGHTS, CAMERA, eLEARNING!
Emotional eLearning.
CHAPTER 5: AS SEEN ON TV
Using Narratives and Drama in eLearning.
CHAPTER 6: ACTION!
Storytelling.
CHAPTER 7: WHAT A CHARACTER!
The ABCs of Character Development.
CHAPTER 8: ARE YOU TALKIN' TO ME?
Creating Convincing Dialogue.
CHAPTER 9: IT WAS A DARK AND STORMY NIGHT . . .
Metaphors and Figures of Speech Capture Attention.
CHAPTER 10: VISUALLY ARRESTING
Good Graphical Style and Layout Encourage Learning.
CHAPTER 11: JUST THE TYPE
Increasing Impact Through Word Design.
CHAPTER 12: PUTTING THINGS IN PERSPECTIVE
Using "Camera" Angle to Attract and Involve.
CHAPTER 13: THE CREATIVITY ETHERNET
Thinking Outside the Recruiting Box.
CHAPTER 14: DIGGING DEEPER DAILY
Leveraging Everyday Research.
CHAPTER 15: I THINK ABOUT WHAT I THINK, THEREFORE I AM
The Benefits of Navel Gazing.
CHAPTER 16: THAT'S A WRAP!
Truth Is a Pathless Land.
MORE ON THE CREATIVE ECONOMY.
. . . AND EVEN MORE READING!
INDEX.
See More
Samantha Chapnick and Jimm Meloy provide market development and learning services to government and industry.
See More