The IAF Handbook of Group Facilitation: Best Practices from the Leading Organization in Facilitation
ISBN: 978-0-7879-7160-1
700 pages
March 2005, Jossey-Bass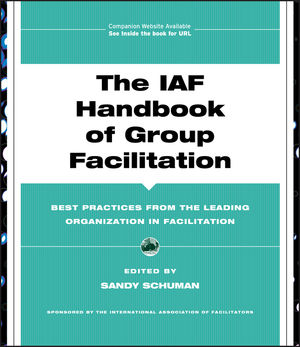 Sponsored by the International Association of Facilitators,
The IAF Handbook of Group Facilitation
offers the need-to-know basics in the field brought together by fifty leading practitioners and scholars. This indispensable resource includes successful strategies and methods, foundations, and resources for anyone who works with groups. 
The IAF Handbook of Group Facilitation
provides an overview of the field for new and aspiring practitioners and a reliable reference for experienced group facilitators, including chapters on 
Creating positive ongoing client relationships
Building trust and improving communications
Facilitating group brainstorming sessions
Drawing out the best in people
Developing a collaborative environment
Designing and facilitating dialogue
Managing conflicting agendas
Working with multicultural groups
Using improvisation
Understanding virtual meetings
Facilitating team start-up
Assessing group decision processes
  Building expertise in facilitation
Reviewing core facilitation competencies
Modeling positive professional attitudes
See More
Preface xi
About the Contributors xvii
A Superlative Task 1
PART ONE Create Collaborative Client Relationships 5
ONE The Big Picture: Creating an Ongoing Client Relationship 7
Nadine Bell, Susan Nurre
TWO The Skilled Facilitator Approach 21
Roger Schwarz
THREE Facilitation: Beyond Methods 35
David Wayne
PART TWO Plan Appropriate Group Processes 55
FOUR Eight Ps of Effective Facilitation Planning and Preparation 57
Jeff Bracken
F I V E The Architecture of Participation 73
Patricia Tuecke
S I X Building Trust: The Great Enabler 89
Maria Begoña Rodas-Meeker, Larry Meeker
SEVEN Facilitation of Group Brainstorming 103
Paul B. Paulus, Toshihiko Nakui
EIGHT Promoting Mutual Understanding for Effective Collaboration in Cross-Functional Groups with Multiple Stakeholders 115
Sam Kaner
NINE A Procedural Analysis of Group Facilitation: A Communication Perspective 135
Joe Chilberg
PART T H R E E Create and Sustain a Participatory Environment 153
TEN Graphic Facilitation: The Art of Drawing Out the Best in People 155
David Sibbet
ELEVEN Creating a Positive Participatory Climate: A Meaning-Centered Counseling Perspective 171
Paul T. P.Wong
TWELVE How to Build a Collaborative Environment 191
David Straus
THIRTEEN Effective Strategies for Designing and Facilitating Dialogue 205
Steven N. Pyser
FOURTEEN Dynamic Facilitation: Design Principles from the New Science of Complexity 225
Lisa Kimball, Trish Silber, Nedra Weinstein
F I F T E E N Facilitating the Whole System in the Room: A Theory, Philosophy, and Practice for Managing Conflicting Agendas, Diverse Needs, and Polarized Views 241
Sandra Janoff,Marvin Weisbord
SIXTEEN Successfully Facilitating Multicultural Groups 255
Christine Hogan
SEVENTEEN Improvisation in Facilitation 281
Izzy Gesell
EIGHTEEN Facilitation of the Future: How Virtual Meetings Are Changing the Work of the Facilitator 295
Lori Bradley,Michael Beyerlein
PART F O U R Guide Group to Appropriate and Useful Outcomes 313
NINETEEN The Team Start-Up: A Scripted Approach to Facilitating the Start of an Effective Work Team 315
Fred Niziol, Kathy Free
TWENTY Facilitating Large Group Meetings That Get Results Every Time 335
Sylvia James,Mary Eggers,Marsha Hughes-Rease, Roland Loup, Bev Seiford
TWENTY-ONE Facilitating Communication in Group Decision-Making Discussions 351
Dennis S. Gouran, Randy Y. Hirokawa
TWENTY-TWO Consensus Building: Strategies for Resolving Disagreement 361
Michael Wilkinson
TWENTY- T H R E E Quality Without a Name 381
Reinhard Kuchenmüller,Marianne Stifel
TWENTY-FOUR Facilitating Participatory Evaluation Through Stories of Change 421
Terry D. Bergdall
TWENTY- F I V E Assessing the Effectiveness of Group Decision Processes 449
John Rohrbaugh
PART F I V E Build and Maintain Professional Knowledge 457
TWENTY- S I X Facilitator Core Competencies as Defined by the International Association of Facilitators 459
Lynda Lieberman Baker, Cameron Fraser
TWENTY-SEVEN Operational Dimensions of the Profession of Facilitation 473
Jon C. Jenkins
TWENTY- E I G H T How to Build Your Expertise in Facilitation 495
Kristin J. Arnold
TWENTY- N I N E Dimensions of Facilitator Education 525
Glyn Thomas
PART S I X Model Positive Professional Attitude 543
T H I RTY Facilitator Values and Ethics 545
Dale Hunter, Stephen Thorpe
T H I RTY-ONE Facilitation from the Inside Out 563
John Epps
T H I RTY-TWO The Gift of Self: The Art of Transparent Facilitation 573
Miki Kashtan
T H I RTY- T H R E E Affirmative Facilitation: An Asset-Based Approach to Process Consultation 591
James P. Troxel
References 609
Name Index 639
Subject Index 647
How to Use the CD-ROM 661
See More
The Editor
Sandy Schuman is president of Executive Decision Services LLC, a consulting firm in Albany, New York, specializing in strategic decision making, collaborative problem solving, consensus building, public involvement, and information management. He is also a research associate at the Center for Policy Research, University at Albany, SUNY. Schuman is the author of numerous articles and book chapters and speaks widely at conferences on facilitation, decision making, conflict resolution, and collaborative systems. He moderates the Electronic Discussion on Group Facilitation and is the editor of Group Facilitation: A Research and Applications Journal.
See More