Trusting What You Know: The High Stakes of Classroom Relationships
ISBN: 978-0-7879-7165-6
Hardcover
240 pages
March 2005, Jossey-Bass
US $35.00

Add to Cart
This price is valid for United States. Change location to view local pricing and availability.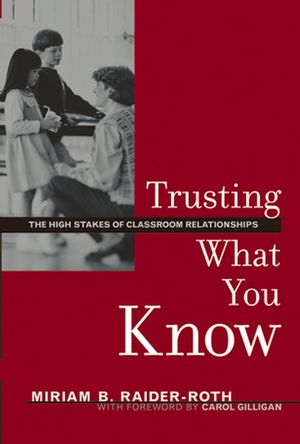 "a wonderful resource for teachers" (
Childhood Education
, Summer 2006)
"Miriam Raider-Roth's Trusting What You Know: The High Stakes of Classroom Relationships is a deeply respectful volume that honors students and their teachers and takes readers below the surface of children's learning processes to illuminate the high stakes of relationships in schools … [This] is an involving book that leaves one with a profound sense that the 'relational paradigm in teaching and learning is not simply a 'nice perk.' Raider-Roth demonstrates that the development of learning relationships, which allow children to build an authentic sense of themselves as knowers and learners, is fundamental to a quality education for all children." (Harvard Educational Review, Spring 2007)
"At once a lively story told in the voices of four animated twelve-year-olds and a conceptual argument challenging central tenets in the canon of teaching, both a handbook for teachers and a philosophical brief,
Trusting What You Know
will change the way we understand life in classrooms. With this revolutionary text, Miriam Raider-Roth has produced a masterpiece."
--William Ayers, Distinguished Professor of Education and Senior University Scholar, University of Illinois at Chicago
"In this era of high stakes testing, we risk ignoring the relational side of learning. Miriam Raider-Roth reminds us that trustworthy knowledge develops in the context of trustworthy relationships. An important book for educators, parents, psychologists, researchers, and policy makers interested in understanding how children learn to trust what they know."
--Sharon Feiman-Nemser, Mandel Professor of Jewish Education, Brandeis University
"Raider-Roth listens to children's voices with subtlety, generosity, and respect, and constructs a narrative that is informative and inspiring, an analysis that is rigorous, and a view of the complexities of classroom life that give students their rightful and essential place in the public discourse about school reform."
--Sara Lawrence-Lightfoot, professor, Harvard University and author of The Essential Conversation
"In the author's perceptive analysis of classroom life, of listening to students voicing their understanding of self and learning, Trusting What You Know illuminates powerfully the work and thinking we all must do to make education personal and meaningful for students and teachers. As we are faced with the increasing standardization of knowledge and students, this book helps us to understand how to create classrooms that support trust and diversity, where learning is a dynamic, honest partnership between students and teachers."
--Harriet K. Cuffaro, professor emerita, Bank Street College of Education