E-book
Launching Our Black Children for Success: A Guide for Parents of Kids from Three to Eighteen
ISBN: 978-0-7879-7191-5
304 pages
September 2003, Jossey-Bass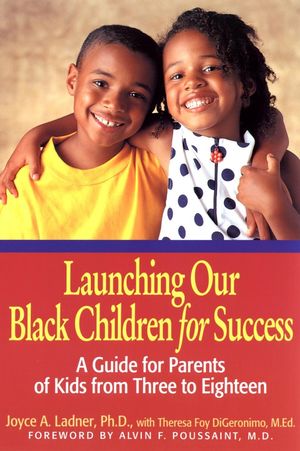 Launching Our Black Children for Success is a groundbreaking book that goes beyond the typical "how to get your kid into the best school or college" advice. This extraordinary book takes black parents step-by-step through the stages of child development so they can build a solid foundation for success in their children. It shows how to best instill pride, self-discipline, social skills, a work ethic, and a way to deal with the inevitable racism and prejudice their children will face. Authors Joyce Ladner and Theresa Foy DiGeronimo also offer a practical guide for overcoming the many injustices and obstacles African American families face and show how to shepherd their kids through the process that is required to help children keep their "eyes on the prize." Launching Our Black Children for Success helps parents to provide the strength and the strategies their children need to seek out whatever career they dream of and deserve.
See More
Foreword (Alvin F. Poussaint, M.D.).
Acknowledgments.
Introduction.
1. Know Thyself.
2. How Well Do You Know Your Child?
3. Building Strong Identity and Positive Self-Esteem.
4. Family Values,
5. The Power of Discipline: Its Use and Abuse.
6. Countering Negative Media and Peer Groups .
7. Education: They Can't Take It Away from You.
8. Drugs and Violence: No Place to Hide.
9. Raising Sons and Daughters: Gender Differences.
10. Role Models: How to Find and Use Them.
11. College Preparation, Application, and Selection.
12. Coping Skills: The Key to Survival.
Helpful Resources.
Notes.
Further Reading.
About the Authors.
Index.
See More
Joyce A. Ladner
, Ph.D., is a senior fellow at the Brookings Institution in Washington, D.C. and the first woman to serve as president of Howard University, where she was also vice president for academic affairs and professor of social work. She is chair of the Campaign to Prevent Teenage Pregnancy and a board member of the Maya Angelou Charter School. She is the author of
The Ties That Bind: Timeless Values for African American Families
(Wiley).
Theresa Foy DiGeronimo, M.Ed., is the author of several successful books, including How to Talk to Your Kids About Really Important Things and other titles in the Jossey-Bass How to Talk series.
See More