Meeting Management - Coping with Dysfunctional Behaviors: A Download from The Pfeiffer Library on CD-ROM
ISBN: 978-0-7879-7314-8
11 pages
April 2004, Pfeiffer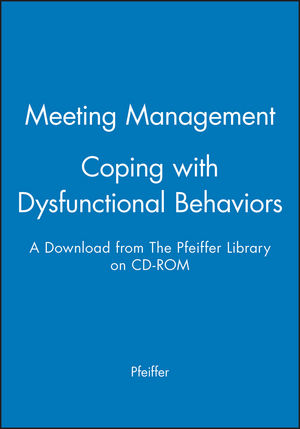 Participants in meetings generally exhibit a variety of behavior, many of which are disruptive or dysfunctional. If the other participants in such meetings knew how best to respond to dysfunctional behavior, they presumably could minimize its impact and thereby derive more benefit from the meeting. In this activity, participants will be presented with a number of meeting situations that have reached a critical point?critical in that the effectiveness of the meeting could depend on the response to the disruptive behavior.
Objectives:
To enable the participants to identify dysfunctional behaviors in meetings
To allow the participants to plan and test coping strategies for dealing with such behaviors in meetings
Group Size: 2 to 6 subgroups of 3 to 4 members each
Time Required: Approximately 1 hour for up to 4 subgroups; 1 ½ hours for 5 to 6 subgroups


Important Information to Review Before Making This Download Purchase
Before purchasing a Pfeiffer Download, you will need Adobe® Acrobat® Reader® Software. If you do not already have it installed on your computer, you may download this free software from the Adobe Web site at Adobe.com.
All Pfeiffer Downloads that you purchase from this site will come with specific restrictions that allow Pfeiffer to protect the copyrights of its products. Just before completing your purchase, you will be prompted to accept our License Agreement. If you do not accept the parameters of this agreement, your credit card will not be charged and your order will be cancelled.
See More
For Training and Human Resources professionals who demand the best, PFEIFFER is the most reliable publisher of practical, off-the-shelf resources that improve workplace performance in a time and cost-effective manner.
See More