Are You Listening?: A Download from Stories Trainers Tell
ISBN: 978-0-7879-7320-9
4 pages
April 2004, Pfeiffer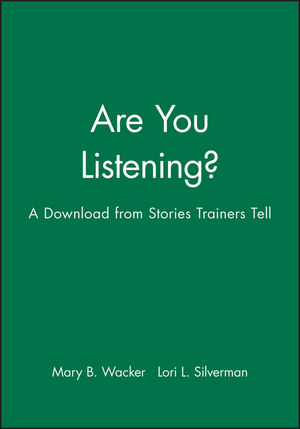 Good communication means understanding that people talk and listen in different ways. Sometimes, to make communication work, you have to ask for what you need, especially when the other person has a different way of talking or listening. This story illustrates the different ways people talk and listen and the obvious effect it has on others. Contributed by Sharon L. Bowman.


Important Information to Review Before Making This Download Purchase
Before purchasing a Pfeiffer Download, you will need Adobe® Acrobat® Reader® Software. If you do not already have it installed on your computer, you may download this free software from the Adobe Web site at Adobe.com.
All Pfeiffer Downloads that you purchase from this site will come with specific restrictions that allow Pfeiffer to protect the copyrights of its products. Just before completing your purchase, you will be prompted to accept our License Agreement. If you do not accept the parameters of this agreement, your credit card will not be charged and your order will be cancelled.
See More
Mary B. Wacker is president of an organizational development consulting firm with a service focus in a variety of workplace environments, including business, health care, utilities, government, education, and community agencies. Her firm specializes in leadership problem solving, training, facilitation, instructional design, and team deployment.  Lori L. Silverman is the owner of Partners for Progress, a management consulting firm dedicated to helping organizations achieve and maintain a sustainable competitive advantage.
See More