eXtreme Project Management: Using Leadership, Principles, and Tools to Deliver Value in the Face of Volatility
ISBN: 978-0-7879-7409-1
560 pages
October 2004, Jossey-Bass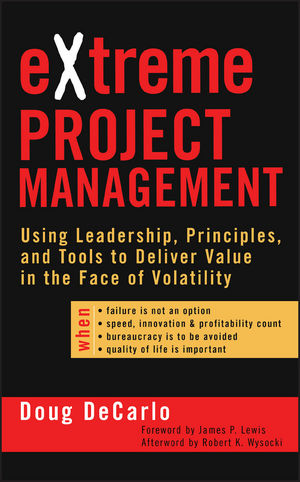 Today's new breed, eXtreme projects are different. They feature high speed, high change, high complexity, high risk, and high stress.  While traditional projects follow the classic model of ready, aim, fire, eXtreme project managers succeed by shooting the gun and then redirecting the bullet while not loosing sight of their moving target. eXtreme Project Management provides a practical guide for leaders working under high risk and high pressure while producing the desired bottom-line results.  Based on Doug DeCarlo's extensive experience in working with more than 250 project teams, his eXtreme project management model is built around an integrated set of principles, values, skills, tools, and practices proven to consistently work under conditions of rapid change and uncertainty. eXtreme project management is based on the premise that you don't manage the unknown the same way you manage the known.  It's a people-centric approach to high performance that makes quality of life a fundamental part of the project venture.
See More
Foreword
by James P. Lewis xv
Preface: Out of the Darkness xix
Acknowledgments xxix
The Author xxxiii
Introduction: Into the Light 1
How eXtreme Projects Are Different 4
Ready, Fire, Aim 6
How eXtreme Project Management Is Different 7
Changing the Paradigm 9
Part One: The New Reality 13
1 Developing a Quantum Mind-Set for an eXtreme Reality 15
Is There a Method to Your Madness? 17
Linear Lunacy 18
Newtonian Neurosis and the eXtreme Project Manager 19
Self-Diagnostic Tool 21
Do You Walk Your Talk? 24
It's Jazz, Not Classical Music 24
Toward Peaceful Coexistence 25
Conclusion 26
2 The eXtreme Model for Success 28
Two Keys to Success 28
What Is a Project? A New Definition 30
What Is Project Management? A New Definition 32
What Is an eXtreme Project? 34
What Is eXtreme Project Management? 34
How Is Success Measured on an eXtreme Project? 36
Who Holds a Stake in Success? 37
What Are the Elements of the eXtreme Model for Success? 39
Putting in Place the Skills, Tools, and Environment to Succeed: The 5 Critical Success Factors 43
Part Two: Leadership Skills for an eXtreme World 47
3 Leadership Begins with Self-Mastery 51
The Project-Crazy Organization 52
The Formula for Self-Misery 53
The Formula for Self-Mastery 57
Taking It to a Higher Court 70
4 The eXtreme Project Manager's Leadership Role 75
The eXtreme Project Manager's Role 76
Stakeholders: The eXtreme Project Management Context 83
Your Role as Process Leader 89
Nine Reasons That eXtreme Project Managers Fail 97
You Are More Powerful Than You May Realize 99
When Commitment Is Not Obtainable 102
5 Principles, Values, and Interpersonal Skills for Leading 105
The 4 Accelerators: How to Unleash Motivation and Innovation 106
The 10 Shared Values: How to Establish the Trust and Confidence to Succeed 111
The 4 Business Questions: How to Ensure the Customer Receives Value Each Step of the Way 115
Developing Interpersonal Skills for an eXtreme World 117
Principles of Effective Communication 122
How to Negotiate 127
How to Resolve Conflict 138
When All Else Fails 140
6 Leading the eXtreme Team 143
Process Values 144
Characteristics of Teams 146
Establishing the Core Team 147
Creating the Conditions for Successful Teamwork 155
The Keys to Running Productive Meetings 166
Facilitation Skills 170
Decision Making and Problem Solving 174
How to Earn the Right to Lead the Process 179
7 eXtreme Stakeholder Management 185
The Stakeholder Challenge 186
Business Values 188
The Stakeholder Universe 190
Managing Your Stakeholders 195
The Role of the Steering Committee 206
How to Combat the Phantom Approval Virus 207
Managing Change: You've Built It, But Will They Come? 208
Business Question 4: Is It Worth It to You? 215
Part Three: The Flexible Project Model 217
8 Visionate: Capturing the Sponsor's Vision 223
Getting Answers to Business Question 1: Who Needs What and Why? 224
The First Sponsor Meeting 228
Beginning Work on the Project Prospectus 237
The Second Sponsor Meeting 244
9 Visionate: Establishing the Collective Vision 251
Preparing for the Third Sponsor Meeting 252
Go or No Go: The Third Meeting with the Sponsor 260
Getting Ready for the Scoping Meeting 267
Conducting the Scoping Meeting 271
After the Meeting 283
10 Speculate: The Planning Meeting 295
Preparing for the Planning Meeting 297
The Twelve-Step Planning Meeting Process 297
11 Speculate: Postplanning Work 329
Assessing the Project Management Infrastructure 331
Estimating Financial Requirements 332
12 Innovate: Learning by Doing 343
The Underlying Dynamics 344
Time Boxing 347
Applying the SCORE Model 349
The Goal of the Innovation Cycle 360
13 Reevaluate: Deciding the Project's Future 369
What Reevaluate Is Not 372
The Reevaluate Process 372
14 Disseminate: Harvesting the Payoff 391
What Happened to Business Question 4: Is It Worth It? 394
The Turnover Point 396
The Stabilization Period 397
The Project Review Meeting 397
Benefits Realization 400
Part Four: Managing the Project Environment 411
15 Real-Time Communication 415
What Are the Basic Communications Needs of Stakeholders? 418
What Are the Hallmarks of a Viable Real-Time Communications System? 420
What Specific Real-Time Features Do You Need? 422
Where Do You Find Affordable, Quick-Start Solutions? 424
What Are the Technical Considerations for Planning and Running Virtual Meetings? 428
What Do You Need to Know in Planning and Running Web Conferences? 431
What's the Big Trap to Watch Out For? 432
16 Agile Organization: A Senior Management Briefing 435
The New Dynamics of Projects 437
How Top Managers Can Undermine Effective Project Management 439
The Role of the Project Sponsor 441
Becoming an Agile Organization: Best and Worst Practices 444
Landing on Common Ground 456
Making the Transition 458
The World Is Only Going to Become More eXtreme 459
Afterword by Robert K. Wysocki 461
eXtreme Tools and Techniques 465
Self-Mastery Tools and Techniques 466
Interpersonal Tools and Techniques 480
Facilitation Skills 487
Project Management Tools 493
References 497
Index 501
See More
Doug DeCarlo is principal of the Doug DeCarlo Group. His work has earned him international recognition as a consultant, motivational keynote speaker, trainer, coach, facilitator, and columnist. He often uses percussion instruments in his presentations to illustrate the dynamics of eXtreme projects.
See More
"A wake-up call for the project management establishment."
--Wayne G. Dix, PMP, AXA Financial
"Inspiration for all of us in the project management profession."
--Wes Balakian, PMP, chairman and executive advisor, PMI E-Business SIG; and President, TSI
"Not simply a book. It is a mind-expanding experience!"
--Gary R. Heerkens, PMP, CPM, CBM, PE, president, Management Solutions Group, Inc.
"A profoundly thoughtful and useful approach to managing the chaotic projects of our time."
--Ed Mahler, PMP, president, Project Administration Institute; and president, PMI Westchester, New York, chapter
"A much-awaited alternative to traditional project management."
--Lauri Koskela, professor, the University of Salford
"Concrete tools for when traditional project management approaches aren't cutting it."
--Victoria Tucker, president, Zero Boundary Inc.
"Doug shows us how to rise above chaos and ambiguity and to achieve results without driving ourselves mad in the process!"
--John J. Turanin, vice president, corporate planning and program management, Aradigm Corporation
"Belongs front and center on our desks where we can use it on a daily basis."
--William Jacobson, director, project management, Wyeth Research
"A paradigm shift. Universally applicable, beneficial for all projects. Refreshing and delightful."
--Randall L. Englund, author, Creating an Environment for Successful Projects
"A strong dose of reality and a long-awaited perspective."
--Jim McDonough, Ph.D., PMP, senior research scientist, Eli Lilly and Company
"Doug DeCarlo adds power and insight to the growing effort to reform project management."
--Gregory Howell, PE, Lean Project Consulting
"Doug DeCarlo is leading those of us in the IS/IT profession into a new and much-needed arena of speed, yet high-quality systems development."
--Joan Knutson, PM, Guru Unlimited
"An approach that will greatly increase chances of successfully delivering business value."
--John Thorp, president, The Thorp Network Inc.; and author, The Information Paradox
"I highly recommend this book to anyone facing challenging projects."
--Zed Day, CIO, University of Kentucky Medical Center
See More
Instructors Resources
Request a print evaluation copy
Contact us

See More
See Less