Reading Learning Centers for Primary Grades: Monthly Theme Units, Activities, and Games, 2nd Edition
ISBN: 978-0-7879-7579-1
400 pages
August 2005, Jossey-Bass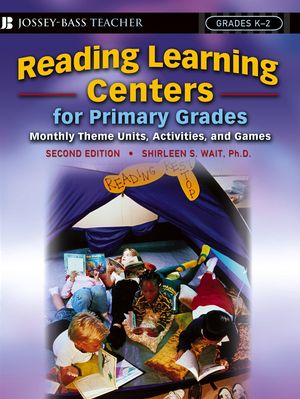 Reading Learning Centers for Primary Grades

Monthly Theme Units, Activities, and Games, Second Edition

Reading Learning Centers for Primary Grades is a comprehensive resource that offers everything a primary school teacher needs to create and manage exciting, hands-on learning centers to enliven and enrich a primary reading program. The book includes information on topics such as the types of centers that match various learning styles and ability levels, directions for organizing and managing the centers, ideas for establishing monthly themes, and directions for creating hands-on skills games for remediation and enrichment. The book contains thirteen seasonal themes, lists of thematic children's books, calendars and bulletin-board ideas, and illustrated, step-by-step directions for creating 88 thematic and skills-based board, card, sorting, and matching games. This new edition addresses No Child Left Behind legislation and standards, and reflects the diverse U.S. population through Black History, Hispanic, Asian, and Classical Latin cultural themes.

Praise for Reading Learning Centers for Primary Grades

"Wow! This book is a gold mine of great ideas to make reading instruction come to life. Students will enjoy the active learning in the centers, and they'll be learning essential reading skills at the same time. What a great combination! I enthusiastically recommend this book to our Project CHILD teachers, and all teachers who are seeking good ideas to actively engage children in the learning process."
--Sarah M. (Sally) Butzin, developer, Project CHILD;president, Institute for School Innovation in Tallahassee, FL

"One of the most important things we can do for our youngest citizens is teach them to read and encourage them to love it! This book shows primary teachers how to do both, by demonstrating fun ways to engage students in high-interest learning activities that will improve their reading skills."
--John Peyton, Mayor of Jacksonville, FL, and creator of Mayor Peyton's Book Club for Children
See More
About This Book.
About the Author.
About the Illustrator.
About the Content Developers.
Explaining Learning Centers to Parents.
1. Managing Learning Centers.
Creating Areas.
How to Begin Using Learning Centers.
Acquiring Low-Cost Furniture.
Arranging the Room.
Structure and Planning.
Stage 1.
Stage 2.
Stage 3.
Providing Materials.
Keeping Track of Work.
Evaluating Learning at the Centers.
Learning Centers and Special-Needs Children.
2. Organizing Learning Centers.
Finding Materials.
Storing Center Materials.
Making Storage Containers.
3. The Learning Centers.
The Teacher Center.
The Library Center.
The Listening Center.
The Computer Center.
The Art Center.
The Writing Center.
The Word Play Center.
4. Learning Center Thematic Units.
August and September: School Days.
October: Pumpkin Patch.1
November: Native American Tepee.
December and January: Winter Wonderland.
February: Black History Month and Valentine's Day.
March: Spaceship.
April: Springtime.
May: Cinco de Mayo.
Additional Learning Center Thematic Units.
Lunar New Year.
Restaurant.
Roman Holiday.
Valentine's Day and Dental Health Month.
5. Learning Center Skill Games.
Part One: Assembling Skill Games.
Part Two: Game Cards and Answer Keys.
Appendix: Correlation with Standards.
Additional Resources.
See More
Shirleen S. Wait, Ph.D., has been an elementary school classroom teacher and reading specialist for more than thirty years. She was the reading specialist for Project CHILD (Changing How Instruction for Learning is Delivered). Dr. Wait has developed a complete reading curriculum for grades K-5 and designed hundreds of learning-centered activities for each grade level.
See More