E-book
Building Donor Loyalty: The Fundraiser's Guide to Increasing Lifetime Value
ISBN: 978-0-7879-7658-3
250 pages
October 2004, Jossey-Bass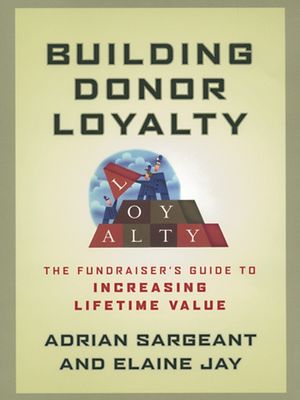 Building Donor Loyalty is a hands-on guide written for professional fundraisers that outlines the factors that drive donor retention, explains how to keep donors committed to an organization, and offers suggestions for developing donor value over time. It is based on data drawn from a research program which included more than 20,000 nonprofit organizations and was funded by the Aspen Foundation and the Indiana Fund through the Center on Philanthropy at Indiana University. Building Donor Loyalty contains a variety of illustrative case studies that demonstrate the power of effective donor retention strategies and clearly explains each of the factors that can build donor retention. It includes tools and techniques that have proven successful when growing long-term relationships with donors and offers practical advice for fundraisers who want to integrate this knowledge into their own thinking, planning, and practice.
See More
Tables, Figures, and Exhibits.
Preface.
The Authors.
1 Why Does Loyalty Matter?
2 Driving Donor Loyalty.
3 Understanding Giving Behavior.
4 Advancing the Relationship Revolution.
5 Researching What Donors Want.
6 Using Donor Segmentation to Enhance Loyalty.
7 Growing Monthly Giving.
8 Building Effective Fundraising Products.
9 Managing Service Quality.
10 Recognizing and Rewarding Donors.
11 Using Lifetime Value to Inform Retention Strategy.
12 Planning for Retention.
Conclusion: A Call to Action.
References.
Index.
See More
Adrian Sargeant
is professor of nonprofit marketing at Bristol Business School, University of the West of England, and an adjunct professor of philanthropy at the Indiana University Center on Philanthropy.
Elaine Jay is director of the consultancy firm Sargeant Associates Ltd. She has over fourteen years of experience as a fundraiser working with a number of charities, including the Royal Society for the Prevention of Crulety to Animals, where she was head of individual fundraising for six years.
See More