The 2006 Pfeiffer Annual: Training
ISBN: 978-0-7879-7821-1
296 pages
November 2005, Pfeiffer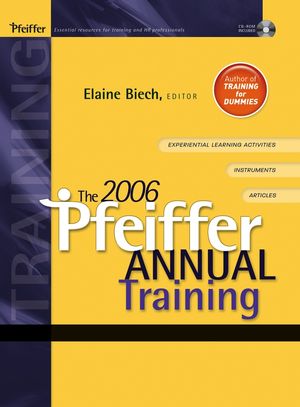 Shifting work patterns, constant organizational change, and a continually increasing demand for new knowledge, challenges even the most experienced training professional. Under these conditions, proven, ready-to-use resources are immensely useful. None more so than
The 2006 Pfeiffer Annual: Training
, which provides instant access to a wealth of knowledge about training and development, and proven tools that can be put to use with a minimum of preparation. The book is divided into four sections: Experiential Learning Activities (ELAs); Editor's Choice, Inventories, Questionnaires, and Surveys; and Articles and Discussion Resources. All the material can be freely reproduced for training purposes.
See More
Preface.
The Difference Between Training and Consulting: Which Annual to Use?
Introduction to The 2006 Pfeiffer Annual: Training.
Experiential Learning Activities.
Introduction to the Experiential Learning Activities Section.
Experiential Learning Activities Categories.
Do Differences Divide Us? Learning About Diversity (M.K. Key).
Opposite Chair: Learning to Ask Questions (Chai M. Voris).
Pygmalion: Using the Power of Expectations for Developing Subordinates (Parth Sarathi).
Self-Powered Vehicles: Learning to Work as a Group (Pat Murphy).
Soda Can Carry: Building a Team (Kristin J. Arnold).
Picture This: Introducing Participants (Carrie Reilly and Mark Rose).
Word Cards: Reinforcing Learning (Steve Sphar).
Lyrical Look: Finding Insight in Songs (Lenn Millbower).
Critical Reflection Relay: Reviewing What Was Learned (Bonnie Jameson).
Rolling for Review: Reviewing Key Learning Points (Gail Hahn).
Keynote Closer: Polishing the Gems (Frank A. Prince).
What Is Moral Character? Defining Character (Homer H. Johnson).
How Do I Acknowledge Thee? Giving Praise When Due (Teri-E Belf and M. Sheila Collins).
Board Meeting Simulation: Establishing Leadership Perspective (W. Norman Gustafson).
Editor's Choice.
Introduction to the Editor's Choice Section.
El Quixoteand the Quest for Management Skills (Teresa Torres-Coronas).
Why Sales People Fail (Jeffrey P. Bosworth).
How to Protect and Profit from Your Training Assets (Diane M. Gayeski).
Inventories, Questionnaires, and Surveys.
Introduction to the Inventories, Questionnaires, and Surveys Section.
Assessing One's Own Facilitation Skills (Lois B. Hart).
Measuring Employee Resilience (Jeffrey Russell and Linda Russell).
Articles and Discussion Resources.
Introduction to the Articles and Discussion Resources Section.
Plan by Turning Time Around (Stephen Randall).
**Who Am I and Where Do I Fit Today, Tomorrow, and Beyond? (Neil J. Simon and Fred Zimmer).
Training Personnel to Use Speech Recognition Software (Martha C. Yopp).
Reluctance to Role Play (Susan El-Shamy).
Nuts and Bolts: Checklists for a Faultless Workshop (Lois B. Hart).
Connecting Training to Performance (Tyrone A. Holmes).
The Inside Track (Ajay M. Pangarkar and Teresa Kirkwood).
Applying Recognition to Training and Development (Bob Nelson).
Where Are the Grown-Ups? Developing Mature Leaders (Lisa J. Marshall).
Narcissistic Managers: An Impediment to Organization Development (Marlo E. Ettien).
Emerging Knowledge Management Trends (Worachat Buranapunsri, Robert Jordan, and Zane Berge).
Contributors.
Contents of the Companion Volume, The 2006 Pfeiffer Annual: Consulting.
How to Use the CD-ROM.
Pfeiffer Publications Guide.
See More
Elaine Biech is the author of more than a dozen articles and books, including The Business of Consulting, Marketing and Selling Your Consulting Services, and The Consultant's Quick Start Guide, all published by Pfeiffer. Her most recent book is Training for Dummies. She is president and managing principal of ebb associates inc and has consults to a diverse range of industries including health care institutions, insurance, banking, shipbuilding, manufacturing, government, and nonprofit organizations.
See More