Hands-On Physical Science Activities For Grades K-6, 2nd Edition
ISBN: 978-0-7879-7867-9
Paperback
544 pages
April 2006, Jossey-Bass
US $34.95

Add to Cart
This price is valid for United States. Change location to view local pricing and availability.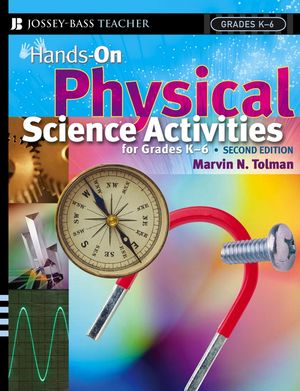 This is a Print-on-Demand title. It will be printed specifically to fill your order. Please allow an additional 2-3 days delivery time. The book is not returnable.
"The
Hands-On
books are an awesome resource that has enhanced my science units. Every activity has easy step-by-step instructions, a materials list, and teacher information. My students and I love the activities."
—Patti W. Seeholzer, third-grade teacher, River Heights Elementary School, Utah and winner of the 2002 Presidential Award for Excellence in Science Teaching
"A great resource for all prospective and practicing elementary teachers."
—David T. Crowther, associate professor, science education, University of Nevada, Reno
"The Marv Tolman science activity books were always a hit with teachers and were valuable for use with my science method course students."
—Dr. Donald R. Daugs, professor emeritus, Utah State University
"I love the Hands-On Science books by Marv Tolman. They sit right next to my desk within easy reach. The lesson plans are teacher friendly and student friendly. The books are put together in such a way that it is easy to find any subject. From Kindergarten to 6th grade the lessons are set up for all students to use. I know, I have used them in all grades and my students love to be involved in science. I highly recommend these books for any teacher whether you struggle with science or are an expert in the field."
—Marilyn Bulkley, fifth grade teacher, Garfield School District, Panguitch, Utah
"Our sixth-, seventh-, and eighth-grade students have literally worn out our copies of Dr. Tolman's Hands-On Activities.  We have two copies of each activity book and students select them for their concise instructions, excellent diagrams, and easy-to-find materials. Even though the title indicates grades K-6, students and teachers in seventh and eighth grades found the activities very helpful in classroom demonstrations and as a beginning point for science fair problems.  I loved the way that the activities are divided into the three different disciplines: physical, earth, and life. It was fast and easy to locate just what you needed using the table of contents organization. There was always an activity for whatever concept my students were learning. Our school will need to purchase the newly revised activity books."
—Rosalee Riddle, science teacher, Red Hills Middle School, Richfield, Utah and science curriculum coordinator, Sevier School District, Richfield, Utah
"Before my current position as science teacher educator, I used these activity books extensively in teaching science to my sixth graders. I found them very valuable and helpful in creating lessons that engaged the students in hands-on activities that effectively taught science concepts. Now, as an assistant professor of science education, I continue to use them as I discuss and model hands-on and inquiry-based science. Additionally, I highly recommend them to the pre-service students in my elementary science methods courses, many of whom use them in lesson planning and unit planning for my class as well as during their practicum and student teaching experiences."
—Leigh K. Smith, Ph.D., assistant professor, Department of Science Education, Brigham Young University
"I have taught many science classes for our district over the last ten years, and I always rely on your Hands-On books for background information.  I have them pulled off of the shelf now because I am using them to come up with a science/math activity for my National Board Certification Program.  I know I can trust these books. The information is clearly presented, easy to understand, and the activities always work."
—Mary Selin, second grade teacher, Davis District and first grade science trainer for the district, Davis School District, Utah
"I have used Marv's science books for several years. I love the experiments. The kids love to try them on their own. They have easy-to-follow directions and all the materials are readily available. I especially like the explanations of how and why. The best thing about these experiments is that they work! I haven't had one fail yet."
—Keetette Turner, kindergarten teacher, Granite District, Salt Lake City, Utah
"I began working with Marv Tolman ten years ago. I was new to the world of elementary teaching. I had heard of a workshop that helped teachers simplify, and pinpoint science concepts that could be taught repeatedly through hands-on, basic application. That workshop was the first of many and I still--ten years later--use the concepts to teach my students. The basic and simple mechanics of science that are incorporated into these lessons reach the gifted and struggling learner and can be adapted and adjusted to time and to the needs of students' individual levels and learning styles."
—Marcie H. Judd, fourth grade teacher, Valley Elementary School, Kanab School District, Kanab, Utah
"Many elementary teachers lack science background knowledge. The Hands-On Science Activities series provides teachers with both background knowledge and engaging methods to help all students learn science concepts. Marv explains them using simple, clear, and concise language that equips teachers to teach with confidence. These books have increased both the accuracy and the quality of science education."
—Julie Cook, Title I Literacy Coordinator