Designing the Customer-Centric Organization: A Guide to Strategy, Structure, and Process
ISBN: 978-0-7879-7919-5
208 pages
April 2005, Jossey-Bass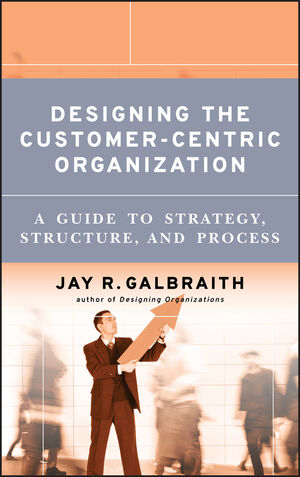 Designing the Customer-Centric Organization offers todayâ??s business leaders a comprehensive customer-centric organizational model that clearly shows how to put in place an infrastructure that is organized around the demands of the customer. Written by Jay Galbraith (the foremost expert in the field of organizational design), this important book includes a tool that will help determine how customer-centric an organization is- light-level, medium-level, complete-level, or high-level- and it shows how to ascertain the appropriate level for a particular institution. Once the groundwork has been established, the author offers guidance for the process of implementing a customer-centric system throughout an organization. Designing the Customer-Centric Organization includes vital information about structure, management processes, reward and management systems, and people practices.
See More
Preface.

The Author.

Introduction.

1. Surviving the Customer Revolution.

The Status Quo Has to Go.

The Customer-Centric Imperative.

The Rise of the Customer Dimension.

Strategy and Organization Model.

Conclusion.

2. Customer-Centricity: How Much Is Enough?

Customer Relationship Strategies.

The Strategy Locator.

Creating a Lateral Networking Capability.

Conclusion.

3. Light-Level Application.

Customer Lite.

Degussa Automotive Catalysts Division.

Learnings and Salient Features.

4. Medium-Level Application.

The Global Investment Bank Case.

Lessons from IBank.

5. Complete-Level Application.

Complex Solutions and Customer-Centric Organizations.

IBM.

Lessons Learned.

6. Alternate High-Level Solutions Companies.

Nokia Networks.

Procter & Gamble.

The Capability That Citibank Built.

How to Manage the Change Process.

Conclusion.

7. Designing a Customer-Centric Organization.

The Semiconductor Company.

Learnings and Salient Points.

8. Leading Through Management Processes.

Leading Strategic Change.

Linking Processes.

Reconciling Strategies.

Portfolio Planning and Solutions Development.

Opportunity Management Process.

Conclusion.

References.

Index.
See More
Jay R. Galbraith is a senior research scientist at the Center for Effective Organizations at the University of Southern California. He is professor emeritus at the International Institute for Management Development in Lausanne, Switzerland. Galbraith is the author of numerous books, including Designing Organizations, Designing the Global Corporation, and Tomorrow's Organization, all from Jossey-Bass.
See More
GALBRAITH: is well recognized name and his book, Designing Organizations, New & Revised has sold very well into Org Theory Courses (1600 copies to date)

CUSTOMER CENTRIC DESIGN: is a hot topic in organizational theory. This book combines the best thinking in organizational design with a customer focus. 
See More
"Jay Galbraith has once again tackled a complex subject and made it not only clear but deeply engaging for his readers. The result is an excellent practical road map for organizations trying to develop customer-centric solutions."
--Israel Makov, president and CEO, Teva Pharmaceutical Industries Ltd.
"Jay Galbraith is one of the world's premier experts in organization design, having vast knowledge of both the theory and practice of creating sustainable competitive advantage. P&G's new organization structure is producing significant competitive advantage, and uses many of the concepts of customer-centricity detailed by Jay."
--Keith E. Lawrence, director of human resources, Global Beauty, P&G
"In a world where business success or failure is increasingly dependent on a company's ability to align its resources around the customer, this book is a must-read that describes in very practical terms how large organizations can cope with this added dimension."
--Gerard J. Kleisterlee, president and CEO, Royal Philips Electronics
"Galbraith provides an excellent framework for navigating through the complex organization decisions and process required to successfully lead an enterprise from product to customer centricity."
--Vincent Roche, vice president, Global Sales, Analog Devices Inc.
"Jay Galbraith has once again written a path-breaking book on organizational design. He has put the customer squarely in focus, and developed a new paradigm for the design of effective organizational based on this. Thus, a strong sense of relevant organizational purpose is achieved, based on creating value vis-à-vis the customer. A landmark book."
--Peter Lorange, president, International Institute for Management Development, Lausanne, Switzerland
See More
Instructors Resources
Request a print evaluation copy
Contact us

See More
See Less
Learn more about