Textbook
Health Communication: From Theory to Practice
ISBN: 978-0-7879-8205-8
464 pages
April 2007, ©2007, Jossey-Bass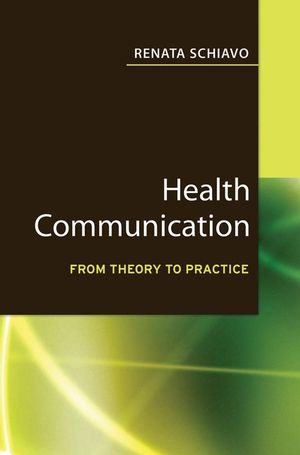 Health Communication: From Theory to Practice is a much needed resource for the fast-growing field of health communication. It combines a comprehensive introduction to current issues, theories, and special topics in health communication with a hands-on guide to program development and implementation.  While the book is designed for students, professionals and organizations with no significant field experience, it also includes advanced topics for health communication practitioners, public health experts, researchers, and health care providers with an interest in this field.
See More
Figures, Tables, Exhibits, and Numbered Boxes.
Preface.
Acknowledgments.
About the Author.
Introduction. PART ONE. INTRODUCTION TO HEALTH COMMUNICATION.
1. What Is Health Communication?
2. Current Health Communication Theories and Issues.
3. Cultural, Gender, Ethnic, Religious, and Geographical Influences on Conceptions of Health and Illness.
PART TWO. HEALTH COMMUNICATION APPROACHES AND ACTION AREAS.
4. Interpersonal Communications.
5. Public Relations and Public Advocacy.
6. Community Mobilization.
7. Professional Medical Communications.
8. Constituency Relations in Health Communication.
PART THREE. PLANNING, IMPLEMENTING, AND EVALUATING A HEALTH COMMUNICATION PROGRAM.
9. Overview of the Health Communication Planning Process.
10. Situation Analysis and Audience Profile.
11. Identifying Program Objectives and Strategies.
12. Developing Tactical and Evaluation Plans.
13. Implementing, Monitoring, and Evaluating a Health Communication Program.
Appendix A: Examples of Worksheets and Resources on Health Communication Planning.
Appendix B: Selected Online Resources on Health Communication.
Glossary.
References.
Index.
See More
Renata Schiavo, Ph.D., M.A. is a senior health care communications consultant. She is also an adjunct assistant professor of Public Health at New York University, Steinhardt School of Education, Department of Nutrition, Food Studies, and Public Health.
See More
Timing: This field is desperate for a new, fresh entry level textbook on health communications.
Breadth: Author brings seventeen years' experience in U.S. and international non-profit organizations, pharmaceutical companies, communications agencies, governments, universities and research laboratories.
Approach: Step by step, the book outlines the theory and practice of health communication and offers detailed instructions on how to design and implement communication interventions that ultimately can help improve health outcomes.
Ready for the Classroom: This book will be complemented by an instructors' supplement that will include for each chapter: Key points/messages, Suggested questions and themes for class discussion, Suggested written assignments,PowerPoint slides including all figures, charts and illustrations included in the book as well as sample lectures for 2 or 3 of the book's chapters, Test Bank including multiple choice or true/false questions and answer key
See More
"This book seems a likely candidate to fill any void in previous offerings. . . . clearly designed to be a used as a teaching tool, and, in this regard, it is successful. .. . . Academic health sciences librarians may find this book quite useful, as the author has provided a thorough overview of factors that must be considered to achieve success in implementing instructional, patient/consumer health, or outreach programs."
—
Stephanie Nicely Aken, Journal of the Medical Library Association (January 2008)
"This is a book that appeals on a number of levels. The clarity of the writing is outstanding, and it avoids jargon. It is exceptionally careful to provide definitions... Structurally, the format and organization guide the reader through the development of practical health communication approaches based on various theoretical models of health-related attitude and behavior change.... This is a good textbook for a course on health communication, but it is also a book that provides ready access to both the theoretical underpinnings and practical guidance that health professionals need to assess the scope and complexity of health communication problems... Health organization administrators...would do well to spend a weekend with this book." (PsycCRITIQUES, American Psychological Association, January 16, 2008)
"This is a good textbook for a course on health communication, but it is also a book that provides ready access to both the theoretical underpinnings and practical guidance that health professionals need. . . " (PsycCritiques, Jan 1, 2008)
"This book is without any doubt highly valuable for those who want to know more about theoretical issues in health communication, as well as its practical implications..... Its combined approach of providing a theoretical background as well as practical information makes it an important book for people working in the field." (Biotechnology Journal, September 2007)
"The concern with being a didactic book, clear for the reader, permeates the whole work. . . It is a book that should be read by all those who study, research or work in the health communication area because it presents all the essential concepts. . . and aspects that should be considered." (RECIIS, Electronic Journal of Communication, Information and Innovation in Health June 2009)
"Health communication is a growing field and its applications are becoming important to alcohol and drug education.....Overall, this book is quite valuable for the field of health communication and allied disciplines such as health education and public health. The book is intended for graduate students and practicing managers and researchers who want to learn about health communication in a step-by-step process. It would be quite useful for both of these audiences." (Journal of Alcohol & Drug Education December 1, 2008)
See More
Learn more about