Managing the Training Function For Bottom Line Results: Tools, Models and Best Practices
ISBN: 978-0-7879-8243-0
300 pages
November 2007, Pfeiffer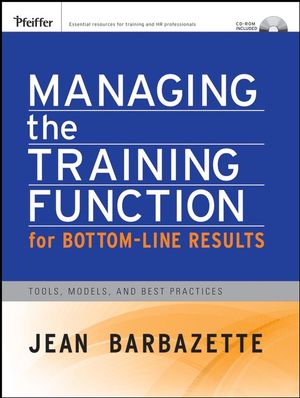 This book presents time saving strategies, tactics, and a host of job aids to get the best result from the corporate learning function. It will serve both as a must-have reference tool and as a practical survival guide for workplace learning professionals who face unique challenges in accomplishing their responsibilities. Several strategies and tactics are offered to organize the roles and responsibilities of the training function. There's authoritative advice, too, for managing the function including staff management, communicating expectations, setting the learning agenda, coaching subject matter experts, hiring consultants and vendors, managing content, working with learning portals, setting up and managing a learning resource center, marketing and building internal support for training, and integrating learning into the business.
See More
Case Studies, Tools, and Exhibits xiii
Contents of the CD-ROM xix
Acknowledgments xxiii
Introduction xxv
Chapter 1 Training Function Systems Audit 1
Define a Training Function 2
Clarify Which Roles and Responsibilities Apply to Ten Key Areas of Your Current Function 2
Interpretation of Training Function Systems Audit 43
Chapter 2 Prioritize Training Responsibilities 47
Identify Key Duties and Responsibilities for the Training Function 49
Develop Priorities Consistent with the Business Plan 51
Link Assessments to Vision, Mission, and Business Plan 52
Develop a Training Department "Mission Statement" 52
Anticipate Future Needs and Use Short-Term and Long-Term Planning 56
Develop Your Own Job Description 56
Prepare, Monitor, and Modify a Budget 76
Ensure Legal, Ethical, and Regulatory Compliance 81
Participate in Outside Professional Organizations 83
Keep Up-to-Date with Training Trends 84
Chapter 3 The Performance Consulting Approach to Managing a Training Function 85
What a Performance Consulting Approach Is 87
Benefits of a Performance Consulting Approach 87
Performance Consulting Roles, Multiple Roles of a Trainer 88
Performance Consulting Role Choices 100
Eight-Step Performance Consulting Process 100
Strategies in Transitioning to a Performance Consulting Approach 109
Chapter 4 Gain Support for the Training Function 115
Identify the Benefits of Building a Partnership Between Managers/ Supervisors and the Training Function 116
Identify Tactics to Build the Partnership Before Performance Interventions 116
Identify Tactics to Build the Partnership During Performance Interventions 118
Identify Tactics to Build the Partnership Following Performance Interventions 118
A Final Strategy 129
Chapter 5 Project Management Skills for Training Managers 131
Project Management and the Eight-Step Consulting Process 132
Initiate a Project by Assessing the Need to Create a Project Team and Gain Authorization 133
Plan the Project 133
Use Project Management Tools Appropriately to Execute the Project 134
Use Project Management Tools to Control the Project 134
Close Projects Appropriately 135
Chapter 6 Select Training Programs and Packages 141
Identify Essential Elements of the Buying Process 142
Write a Request for Proposal (RFP) 147
Identify External Resources 149
Set Criteria to Review Training Program Proposals 149
Determine Lessons Learned from Purchasing Pitfalls 150
Chapter 7 How to Hire a Consultant or External Trainer 159
Select a Consultant or External Trainer 160
Find the Right Kind of Consulting Help 160
Interview a Consultant 165
Monitor the Consultant's Work 172
Chapter 8 How to Manage a Training Staff 177
Make Staffing Choices 178
Select Internal Trainers 178
Give Feedback to Internal Trainers 203
Improve Internal Trainer Skills 203
Use Different Types of Training Methodologies 203
Use a Variety of Trainer Roles 204
Maintain Courses 205
Develop a Leader's Guide 206
Use Competencies to Supervise, Coach, and Develop Trainers and Course Designers 206
Appreciate the Benefits of Certification Programs 206
Chapter 9 Select and Coach Subject-Matter Experts as Internal Trainers 241
Select Subject-Matter Experts as Internal Trainers 242
Establish an Internal Trainer Selection Process 245
Chapter 10 Successful Strategies for Marketing Training Internally 265
Define Marketing 266
Identify Successful Techniques to Market the Training Function 267
Create a Partnership with Supervisors to Avoid "No Shows" at Training Events 270
Chapter 11 Publicize Training Events 277
Publicize a Variety of Training Services 278
Prepare Training Announcements, Course Catalogues, and Brochures 283
Write Training Announcements 290
Publicize Training Results 290
Use Recognition Tools 293
Use Brown Bag Seminars 295
Decide the Type of Information to Put on Your Web Page 295
Decide How Often to Maintain the Website 298
Chapter 12 Smoothly Administer Training Events 299
Plan Training Events 300
Scheduling Training Events 305
Workshop Registration Process 308
Common Features of Software 310
Workshop Confirmation Process 311
Final Workshop Preparation 322
Workshop Follow-Up 329
Chapter 13 Set Up Off-Site Training Events 343
Negotiate and Coordinate with Hotels for Off-Site Meeting Rooms 344
Make Travel Arrangements for Instructors and Training Participants 350
Chapter 14 Set Up and Run a Corporate Resource Center 355
Maintain a Corporate Library and Resource Center 356
Purchase Audiovisual Equipment 359
Maintain Equipment and Inventory 359
Order Training Materials and Supplies 363
Produce Audiovisual and Written Materials 366
Monitor Tuition Reimbursement Programs 367
Appendix A Bibliography 369
Appendix B Training Resources 371
Websites 371
Workshop Listing and Registration Services 372
Professional Training Organizations 372
Appendix C Five Steps of Adult Learning 375
Index 379
About the Author 385
How to Use the CD-ROM 387
See More
Jean Barbazette is the president of The Training Clinic, a training and consulting firm she founded in 1977. Her company focuses on training trainers throughout the United States for major profit, non-profit, and government organizations. The Training Clinic has three international licensees in the Netherlands, Hungary, and Colombia. Prior books include The Art of Great Training Delivery, Successful New Employee Orientation (2nd ed.), Instant Case Studies, The Trainer's Journey to Competence, and Training Needs Assessment, all from Pfeiffer, and The Trainer's Support Handbook from McGraw-Hill. She is a frequent contributor to ASTD Training & Development Sourcebooks, McGraw-Hill Training & Performance Sourcebooks, and Pfeiffer Annuals.
See More