Coaching For Commitment Workshop: Participant's Workbook, 3rd Edition
ISBN: 978-0-7879-8248-5
160 pages
December 2007, Pfeiffer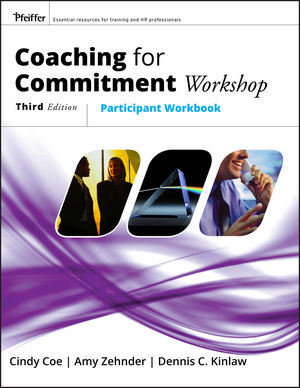 The
Participant's Workbook
is your guide to the two-day
Coaching for Commitment Workshop.
In this third edition of the Coaching for Commitment Workshop, all the bases have been covered. Authors, Cindy Coe and Amy Zehnder have strengthened and streamlined this new and improved two day workshop to make it even more participant-centered and dynamic.  It now provides an interactive and engaging learning experience that is the most effective way to make the shift to the coach role.
In this workshop, participants will:
Become involved by understanding the various roles they play when interacting with others.

Discover ways to be more effective in the coach role and how to gain commitment from the person being coached (PBC).
Commit to creating a Coaching for Commitment Culture.
The Participant's Workbook will serve as your learning tool, activity guide, and post-workshop reference guide.
See More
COACHING FOR COMMITMENT WORKSHOP OUTLINE.
1. COACHING FOR COMMITMENT.
My Coaching Definition.
Shared Defi nition of Coaching.
Coaching Is. . .
Great Expectations.
Coaching for Commitment.
Overall Goal.
My Turn.
2. THE COACH ROLE.
Module 2 Objectives.
Coaching Skills Inventory.
Role Model.
Shift Happens.
Coach Role.
Don't Pretend to Coach!
Simply Uncoachable.
My Turn.
3. THE COACHING PROCESS.
Module 3 Objectives.
Focus on Coach Role.
Coaching Prism.
The Big Picture.
My Turn.
4. TRUST.
Module 4 Objectives.
Trust Me!
Establishing and Maintaining Trust.
Respectful.
Disrespectful.
Level of Trust.
My Turn.
5. THE INDICOM COACHING MODEL.
Module 5 Objective.
The InDiCom Coaching Model.
Involve.
Discover.
Commit.
Coaching Demonstration.
Coaching Circle.
Video Coaching Scenarios.
My Turn.
6. CLEAR COACHING SKILLS.
Total Recall.
Module 6 Objectives.
Diffi cult Decisions.
CSI—My Coaching Skills Gap.
Challenge.
Listen.
Encourage.
Ask.
Refine.
Practice, Practice, Practice = Coach.
My Turn.
7. PLAN TO COACH.
Module 7 Objectives.
Plan to Coach.
Coach Learning Journal.
Performance Coaching.
My Turn.
8. CREATING A COACHING FOR COMMITMENT CULTURE.
Module 8 Objectives.
Steps to Create a Coaching for Commitment Culture.
Create Your Value Proposition for Coaching.
Making Coaching Part of My Culture.
My Turn.
9. BE THE COACH!

Module 9 Objectives.
Commit to the Shift.
Coaching Rediscovered.
Go. . .
RESOURCES.
Thirty-Five Great Coaching Questions.
Coach's Notes.
Performance Coaching Worksheet.
Evaluating Your Coaching.
Interpreting Your Scores.
InDiCom Coaching Culture Guide.
Quick Reference Guide.
References.
See More
The Authors
Cindy Coe is the president of InsideOut Discovery, Inc., an international coaching and consulting practice that specializes in executive coaching. She is a recognized expert in enhancing organizational effectiveness and creating customized learning and development programs.
Amy Zehnder, Ph.D., PCC is a dynamic presenter and recognized expert in talent management and learning and development. As an accomplished organizational development professional, she is sought after for her unique ability to turn strategic viewpoints into tactical actions.
Dennis C. Kinlaw, Ed.D., (deceased) was the original author of Coaching for Commitment. He was a consultant to organizations and conducted management training programs.
See More