Coaching for Commitment: Coaching Skills Inventory (CSI) Self, 3rd Edition
ISBN: 978-0-7879-8253-9
32 pages
December 2007, Pfeiffer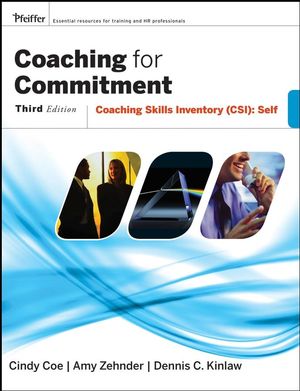 The revised and updated
Coaching Skills Inventory (CSI), Third Edition
can be used in a number of ways; as a stand alone tool, as part of the
Coaching for Commitment Workshop,
or as a part of another coaching or leadership course
.
The CSI: Self is intended for use by anyone who wants to identify (1) a coaching gap compared to an ideal, (2) the role(s) he or she gravitates toward, and (3) proficiency levels in using certain coaching skills during interactions with others.  The CSI has a 360-degree feedback component, called the CSI: Observer that is used to gain a holistic view of the behaviors and actions a person exhibits.   The CSI: Observer also makes a great follow-up assessment for progress checks.
The CSI: Self is a 50-item questionnaire that users self-score. The CSI takes approximately 20-30 minutes to complete and the associated CSI: Observer version takes about 15 minutes. Once completed, the inventory will reveal which of four roles—-instructor, mentor, manager and coach—-the participant is most likely to adopt when interacting with others. It will also show how frequently the skills of challenging, listening, asking, encouraging, and refining—-foundational skills for successful coaching—are deployed in a coaching conversation.
See More
The Authors
Cindy Coe is the president of InsideOut Discovery, Inc., an international coaching and consulting practice that specializes in executive coaching. She is a recognized expert in enhancing organizational effectiveness and creating customized learning and development programs.
Amy Zehnder, Ph.D., PCC is a dynamic presenter and recognized expert in talent management and learning and development.?As an accomplished organizational development professional, she is sought after for her unique ability to turn strategic viewpoints into tactical actions.
Dennis C. Kinlaw, Ed.D., (deceased) was the original author of Coaching for Commitment. He was a consultant to organizations and conducted management training programs.
See More