A Practical Guide to Needs Assessment, 2nd Edition
ISBN: 978-0-7879-8272-0
352 pages
January 2007, Pfeiffer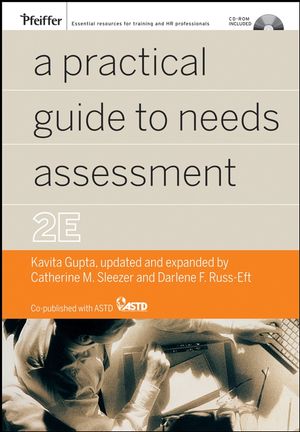 This thoroughly revised edition of the best-selling resource
A Practical Guide to Needs Assessment
offers a practical and comprehensive guide for practitioners who are responsible for
Introducing a training program
Creating adult education programs
Assessing the development needs of a workforce
Improving individual, group, organization or interorganizational performance in the workplace
Implementing community, national, or international development interventions
Designed as a resource for practitioners, this book is filled with how-to information, tips, and case studies. It shows how to use data-based needs assessments to frame people-related problems and performance, improvement opportunities to obtain support from those who are affected by the changes, make effective decision, and increase efficiency.
See More
List of Figures.
List of Toolkit Forms on CD-ROM.
Acknowledgments.
Introduction.
PART ONE: FUNDAMENTALS OF NEEDS ASSESSMENT.
ONE: Overview of Needs Assessment.
TWO: Ideas and Models That Guide Practice.
THREE: Strategies for Collecting and Analyzing Data.
PART TWO: GETTING DOWN TO BRASS TACKS.
FOUR: Knowledge and Skills Assessment.
FIVE: Job and Task Analysis.
SIX: Competency-Based Needs Assessment.
SEVEN: Strategic Needs Assessment.
PART THREE: MANAGING A NEEDS ASSESSMENT.
EIGHT: Writing Proposals and Reports.
NINE: Ethical Issues.
TEN: Answers to Frequently Asked Questions.
PART FOUR: NEEDS ASSESSMENT TOOLKIT.
Toolkit Forms.
Glossary.
References.
Index.
About the Authors.
How to Use the CD-ROM.
See More
Kavita Gupta
has developed training programs for corporations and conducted workshops for several New England universities.
Catherine M. (Cathy) Sleezer, Ph.D., is the manager of learning and organization development at Baker Hughes-Centrilift.
Darlene F. Russ-Eft, Ph.D., is an associate professor of Adult Education at the College of Education at Oregon State University.
See More
Complete update of this popular, practical, and comprehensive guide to the key initial phase of training design.

Features a new Instructor's Guide with on-line and in-person exercises, questions for discussion, and a test bank.

Aligns with new ASTD Competencies and provides sources for instruments to measure management competencies, leadership competencies, etc.

Includes complete updates on all the references, forms, worksheets, job aids, and other tools – all on CD.

Adds a chapter to address systems thinking, culture, and social networks. Called Tricks of the Trade, it presents some expert ways of dealing with issues that arise when conducting a needs assessment.

New edition features case studies -- including from the health care industry and education -- and addresses the international perspectives.
Includes a brief history of needs analysis and current models of needs assessment including the ones covered in the book and some newer models.

Addresses Individual, Team, Organization, and Community needs as they related to Strategic, Process, Competency-based, Job/Task, and Training Needs Analysis.

Expanded section on existing data, including information about collecting data from written documents and the Internet.

Discusses online surveys and provides samples of survey directions, cover letters, etc.

Addresses new modes of training (e.g., blended, online, SCORM) and describes needs assessments within public sector organizations (including health care entities), educational institutions, government agencies, and communities.
See More
Students Resources
Wiley Student Companion Site
Coming Soon!
View Sample content below:
See More
See Less