Christian Reflections on The Leadership Challenge
ISBN: 978-0-7879-8337-6
176 pages
April 2006, Jossey-Bass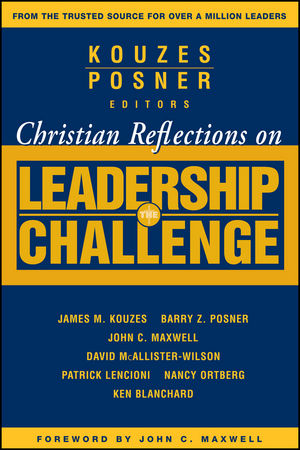 Christian Reflections on The Leadership Challenge
is a faith-based companion to the best-selling leadership book of all time--
The Leadership Challenge
.  Grounded in Jim and Barry's time-tested research,
Christian Reflections on The Leadership Challenge
describes their Five Practices of Exemplary Leadership ® --Model the Way, Inspire a Shared Vision, Challenge the Process, Enable Others to Act, and Encourage the Heart—and offers practical guidance and inspiring examples about how Christian leaders can have a powerful impact in their workplaces, communities, and congregations by bringing their faith into their leadership.
In addition to Jim and Barry's foundational wisdom, the book brings together five leaders who reflect on the Five Practices from a Christian perspective.  John C. Maxwell, David McAllister-Wilson, Patrick Lencioni, Nancy Ortberg, and Ken Blanchard share insights and stories culled from personal experience and the lives of other Christian leaders who have accomplished extraordinary things in churches, communities, classrooms, and corporations.  Their thoughtful reflections on the role of faith in leadership will propel leaders and aspiring leaders
See More
Foreword ix
John C.Maxwell
1 Leadership Is Everyone's Business 1
James M. Kouzes and Barry Z. Posner
2 The Five Practices of Exemplary Leadership 7
James M. Kouzes and Barry Z. Posner
PART 1: MODEL THE WAY
3 Reflections on Model the Way 41
John C.Maxwell
PART 2: INSPIRE A SHARED VISION
4 Reflections on Inspire a Shared Vision 55
David McAllister-Wilson
5 Reflections on Challenge the Process 71
Patrick Lencioni
PART 4: ENABLE OTHERS TO ACT
6 Reflections on Enable Others to Act 85
Nancy Ortberg
PART 5: ENCOURAGE THE HEART
7 Reflections on Encourage the Heart 101
Ken Blanchard
FINAL REFLECTIONS
8 Leadership Is a Relationship 119
James M. Kouzes and Barry Z. Posner
Notes 127
Selected Readings on Leadership 131
Acknowledgments 135
About the Authors 139
Index 145
See More
Jim Kouzes
is an Executive Fellow at the Center for Innovation and Entrepreneurship at the Leavey School of Business, Santa Clara University. He is also chairman emeritus of the Tom Peters Company, a professional services firm that inspires organizations to invent the new world of work using leadership training and consulting solutions.
Jim is featured as one of the workplace experts in George Dixon's book
What Works at Work: Lessons from the Masters
(1988) and in
Learning Journeys: Top Management Experts Share Hard-Earned Lessons on Becoming Great Mentors and Leaders,
edited by Marshall Goldsmith, Beverly Kaye, and Ken Shelton (2000). Not only is he a highly regarded leadership scholar and an experienced executive, the
Wall Street Journal
has cited him as one of the twelve most requested non-university executive education providers to U.S. companies.
A popular seminar and conference speaker, Jim shares his insights about the leadership practices that contribute to high performance in individuals and organizations.
Jim directed the Executive Development Center (EDC) at Santa Clara University from 1981 through 1987. Under his leadership, the EDC was awarded two gold medals from the Council for the Advancement and Support of Education. He also founded the Joint Center for Human Services Development at San Jose State University, which he managed from 1972 until 1980; prior to that, he was on the staff of the University of Texas School of Social Work.
His career in training and development began in 1969, when, as part of the Southwest urban team, Jim conducted seminars for Community Action Agency staff and volunteers in the "war on poverty" effort. Jim received his B.A. degree (1967) with honors from Michigan State University in political science and a certificate (1974) from San Jose State University's School of Business for completion of the internship in organization development.
Jim's interest in leadership began while he was growing up in Washington,D.C. In 1961, he was one of a dozen Eagle Scouts selected to serve in John F. Kennedy's Honor Guard at the presidential inauguration.
Inspired by Kennedy, he served as a Peace Corps volunteer from 1967 through 1969. Jim can be reached at jim@kouzesposner.com.
Barry Posner is dean of The Leavey School of Business and Professor of Leadership at Santa Clara University (Silicon Valley, California), where he has received numerous teaching and innovation awards, including his school's and his university's highest faculty awards. An internationally renowned scholar and educator, Barry is the author or coauthor of more than one hundred research and practitioner-focused articles in such publications as Academy of Management Journal, Journal of Applied Psychology, Human Relations, Personnel Psychology, IEEE Transactions on Engineering Management, Journal of Business Ethics, California Management Review, Business Horizons, and Management Review. In addition to the books he coauthored with Jim Kouzes, Barry has coauthored several books on project management, most recently Checkered Flag Projects: 10 Rules for Creating and Managing Projects that Win! Barry is on the editorial review boards for the Journal of Management Inquiry and Journal of Business Ethics.
Barry received his B.A. degree (1970) with honors from the University of California, Santa Barbara, in political science. He received his M.A. degree (1972) from The Ohio State University in public administration and his Ph.D. degree (1976) from the University of Massachusetts, Amherst, in organizational behavior and administrative theory.
Having consulted with a wide variety of public and private sector organizations around the globe, Barry currently sits on the board of directors for the American Institute of Architects (AIA) and the San Jose Repertory Theatre.He has served previously on the boards of Public Allies, Big Brothers/Big Sisters of Santa Clara County, the Center for Excellence in Non-Profits, Sigma Phi Epsilon Fraternity, and several start-up companies.At Santa Clara University, he has served as associate dean for graduate programs and managing partner for the Executive Development Center.
Barry's interest in leadership began when he was a student during the turbulent unrest on college campuses in the late 1960s; he was participating in and reflecting on the effort to understand the balance between energetic collective action and chaotic and frustrated anarchy.
Barry can be reached at bposner@scu.edu. More information about Jim and Barry and their work can be found on their Web site: www.theleadershipchallenge.com.
See More