Focused Operations Management for Health Services Organizations
ISBN: 978-0-7879-8454-0
384 pages
June 2006, Jossey-Bass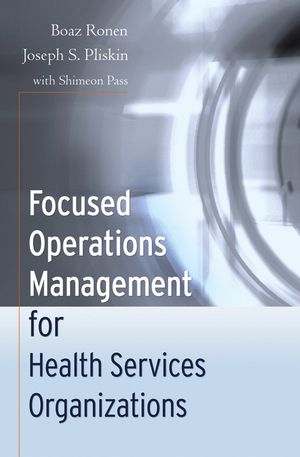 Focused Operations Management for Health Services Organizations offers managers and staff the practical knowledge and tools they need to accomplish much more within existing resources. This text identifies common bottlenecks and constraints and focuses on the critical issues and processes faced by managers in the health care field. The book provides tools to significantly improve organizational operations as well as enhance quality and customer satisfaction without increasing the use of physical, human, and financial resources.
See More
Figures and Tables.
Foreword (Donald M. Berwick).
Preface.
About the Authors.
PART ONE: THE DYNAMIC HEALTH CARE MANAGEMENT ENVIRONMENT.
1. The Modern Health Care and Business Environment.
2. Principles of Management in a Dynamic Environment.
3. The Pareto Rule, Focusing Table, and Focusing Matrix.
PART TWO: NOVEL MANAGEMENT APPROACHES.
4. Management by Constraints: The Focusing Steps of the Theory of Constraints.
5. Management by Constraints in a Bottleneck Environment.
6. Management by Constraints When the Market Is the Constraint.
7. Focused Current Reality Tree.
8. Resolving Managerial Conflicts.
9. The Efficiencies Syndrome.
10. The Evils of Long Response Times.
11. Reducing Response Times.
12. The Complete Kit Concept.
13. Performance Measures and Managerial Control.
14. Effects of Fluctuations, Variability, and Uncertainty on the System.
15. The Evils of Traditional Cost Accounting.
16. Marketing, Costing, and Pricing Considerations in Decision-Making Processes.
17. Quality Management and Process Control.
PART THREE: STRATEGY AND VALUE CREATION.
18. Creating Value for Health Care Organizations.
PART FOUR: SUMMARY.
19. Case Study: The Emergency Department at Guard Mountain Hospital.
20. Our Managerial Credo.
References.
Index.
See More
Boaz Ronen
, Ph.D., is professor at Tel Aviv University, Faculty of Management, the Leon Recanati Graduate School of Business Administration. He is an international consultant and project leader in implementing focused management and theory of constraints techniques and philosophies in high technology, health care, public service, and industry.
Joseph S. Pliskin, Ph.D., is the Sidney Liswood Professor of Health Care Management, Department of Industrial Engineering and Management, and Department of Health Systems Management, Ben-Gurion University of the Negev, Israel. He is also adjunct professor of health policy and management at the Harvard School of Public Health.
Shimeon Pass, M.Sc., M.B.A., is an expert in applying the philosophy and tools of the focused management methodology and theory of constraints in health care, high technology, industrial, service, retail, and nonprofit organizations.
See More
Examines and explores the application of operations management in the framework of health care organizations.
Puts focus on a variety of health care delivery models including hospital, outpatient facilities, and long-term care.
Covers issues related to supply management; scheduling, cost performance and quality assurance will be discussed.
Focused Management approach identifies and inexpensively solves tiny bottlenecks that can have major results, such as reducing waiting time in emergency rooms by 40 percent, or increasing use of operating rooms 20 percent.
Covers the Theory of Constraints (TOC) that yields fast improvement in systems such as Operating Rooms and Emergency Departments, and includes tools such as the Focusing Table, the Focusing Matrix, the Complete Kit concept and Pareto Analysis that increase throughput, reduce response time and create value.
See More
"There is a huge gap between knowledge of operations management in other industries and health care. This book, long overdue, closes the gap. It has a unique blend of the necessary theory and many practical tools. I have no doubt that it will soon be on the desks of many professors, students, clinicians, and hospital managers."
—Eugene Litvak, professor of health and operations management, School of Management, and director, Program for Managing Variability in Health Care Delivery, Health Policy Institute, Boston University, Boston, Massachusetts
See More
Instructors Resources
Request a print evaluation copy
Contact us

See More
See Less
Learn more about