The 2007 Pfeiffer Annual: Human Resource Management
ISBN: 978-0-7879-8471-7
304 pages
October 2006, Pfeiffer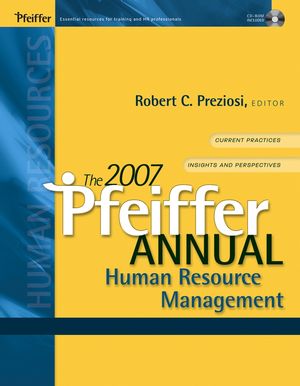 The Pfeiffer Annual: Human Resource Management delivers the most up-to-date thinking on issues that are core to the modern HR manager's role; the series covers a broad range of topics such as leadership and succession planning, compensation and benefits, recruitment and selection, compliance and legal, employee and labor relations, wellness and safety, HR information systems, HR planning, and international HRM, among others. The Annual will become the anchor in your professional library, providing key knowledge, ideas, best practices, and benchmarking data.
See More
Preface.
Introduction to The 2007 Pfeiffer Annual: Human Resource Management.
Current Practices.
Introduction to Current Practices.
Building Competitive Advantage with Contemporary Retention Strategies (Kenneth M. Baylor).
The Links Among Recruitment, Effective Employee Orientation, and Employee Retention (Jeane Hah-Garnett).
Amazing Race for MIS: A University-Industry Partnership to Build and Attract More IT Professionals (Kristie J. Loescher and Elota Patton).
Managing Diversity Challenges: Two Case Perspectives (Kristie J. Loescher and Kella B. Price).
Developing High-Potential Managers: Programs, Processes, and Issues (David L. Morton, Harold L. Hendrick, and Abraham Morrall, Jr.).
Personnel Hiring Decisions in Health Services: The Importance of Employee Congruence with Company Values (James W. Nall and Penelope C. Nall).
Recent Research on the Performance Management Process: Three Case Study Applications and Recommendations (Linsey C. Willis).
Reaching Out to Employees: Retention Programs That Work (Kathy Yeager).
Insights and Perspectives.
Introduction to Insights and Perspectives.
Advances in Learning: Classroom Simulations (Mary Andrade).
The Crisis of Health Care Costs: Strategies HR Professionals Can Employ to Address It (Steven V. Cates).
Strategic Human Resource Thinking (David W. Jamieson).
How Do You Rate HCM? The Newbury Index (Paul Kearns).
Twenty Ways to Turn Around Turnover (Bob Losyk).
Essential Ingredients for Successful Succession Planning (Jean M. McAtavey).
The Impact of the Sarbanes-Oxley Act on Human Resource Management (Randolph A. Pohlman and Bahaudin G. Mujtaba).
Changing Collars? New Rules for Overtime Pay Exemptions (Lisa J. Reed).
HR's Other Legal Nightmare: Liability and the Training and Development Function (John Sample).
Challenges and Solutions in Performance Management (Michael D. Santonino III).
Why Can't I Get Them to Do It? Helping Others Want to Be Accountable for Their Work (Patrick H. Sullivan).
Telework: A New Form of Work Organization and a Contribution to Work/Life Balance (Diane-Gabrielle Tremblay).
About the Editor.
Contributor List.
How to Use the CD-ROM.
Pfeiffer Publications Guide.
See More
Robert C. Preziosi is professor of management with the Huizenga School of Business and Entrepreneurship at Nova Southeastern University. He is an active member of SHRM and a former ASTD two-term Torch Award winner. He is the chair of the HRM master's degree program at NSU and has been named "Professor of the Decade."
See More