Textbook
Changing the U.S. Health Care System: Key Issues in Health Services Policy and Management, 3rd Edition
ISBN: 978-0-7879-8524-0
744 pages
February 2007, ©2007, Jossey-Bass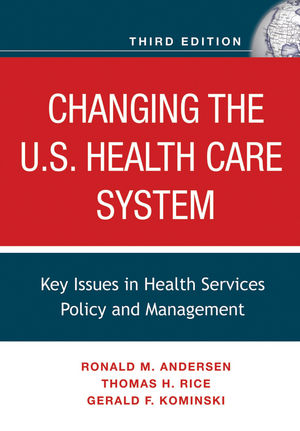 The third edition of Changing the U.S. Health Care System is a thoroughly revised and updated compendium of the most current thought on three key components of health care policy—improving access, ensuring quality, and controlling costs. Written by a panel of health care policy experts, this third edition highlights the most recent research relevant to health policy and management issues. New chapters address topics such as the disparities in health and in health care, information systems, and performance in the area of nursing. Revisions to chapters from the previous edition emphasize the most recent developments in the field.
See More
Figures and Tables.
Foreword (Abdelmonem A. Afifi, Linda Rosenstock).
The Editors.
The Authors.
Introduction and Overview (Ronald M. Andersen, Thomas H. Rice, Gerald F. Kominski).
Acknowledgments.
PART ONE: ACCESS TO HEALTH CARE.
1. Improving Access to Care in America: Individual and Contextual Indicators (Ronald M. Andersen, Pamela L. Davidson).
2. Ethnic Disparities in Health Status (Antronette K. Yancey, Roshan Bastani, Beth A. Glenn).
3. Disparities in Health Care (Leo S. Morales, Alexander N. Ortega).
4. Public Policies to Extend Health Care Coverage (E. Richard Brown, with Shana Alex Lavarreda).
PART TWO: COSTS OF HEALTH CARE.
5. Measuring Health Care Costs and Trends (Thomas H. Rice).
6. Containing Health Care Costs (Thomas H. Rice, Gerald F. Kominski).
7. Controlling Pharmaceutical Prices and Expenditures (Stuart O. Schweitzer, William S. Comanor).
PART THREE: QUALITY OF HEALTH CARE.
8. Measuring Outcomes and Health-Related Quality of Life (Patricia A. Ganz, Mark S. Litwin, Ron D. Hays, Robert M. Kaplan).
9. Evaluating the Quality of Care (Elizabeth A. McGlynn).
10. Public Release of Information on Quality (Elizabeth A. McGlynn, John L. Adams).
11. Health Care Information Systems (Jeff Luck, Paul Fu Jr.).
12. Performance Measurement of Nursing Care (Jack Needleman, Ellen T. Kurtzman, Kenneth W. Kizer).
PART FOUR: SPECIAL POPULATIONS.
13. Long-Term Care and the Elderly Population (Steven P. Wallace, Emily K. Abel, Nadereh Pourat, Linda Delp).
14. AIDS in the Twenty-First Century: Challenges for Health Services and Public Health (David S. Zingmond, William E. Cunningham).
15. Health Reform for Children and Families (Moira Inkelas, Neal Halfon, David Lee Wood, Mark A. Schuster).
16. Mental Health Services and Policy Issues (Susan L. Ettner, Janet C. Link).
17. Women's Health: Key Issues in Access to Health Insurance Coverage and to Services Among Nonelderly Women (Roberta Wyn, Beatriz M. Solís).
18. Homeless Persons (Lisa Arangua, Lillian Gelberg).
PART FIVE: DIRECTIONS FOR CHANGE.
19. Managed Care and the Growth of Competition (Gerald F. Kominski, Glenn A. Melnick).
20. Medicare Reform (Gerald F. Kominski, Jeanne T. Black, Thomas H. Rice).
21. Public Health and Personal Health Services (Lester Breslow, Jonathan E. Fielding).
22. The Continuing Issue of Medical Malpractice Liability (Ruth Roemer).
23. Ethical Issues in Public Health and Health Services (Pauline Vaillancourt Rosenau, Ruth Roemer).
Index.
See More
Ronald M. Andersen
is the Wasserman Professor Emeritus in the University of California, Los Angeles, department of Health Services and Sociology. Previously he was professor at the University of Chicago and director of Center for Health Administration Studies.
Thomas H. Rice is vice chancellor for academic personnel at the University of California, Los Angeles and professor of health services, University of California, Los Angeles, School of Public Health.
Gerald F. Kominski is professor in the Department of Health Services, associate dean for academic programs, and associate director of the Center for Health Policy Research at the University of California, Los Angeles School of Public Health.
See More
"The book is sobering and pulls no punches as it describes the myriad strengths and weaknesses on both policy and health care…" (
PsycCritiques
, 09/19/2007)
Praise for Prior Editions of Changing the U.S. Health Care System
"This superb book provides a thorough and authoritative overview of the complex U.S. health care system. There are excellent chapters on such diverse topics as policies to extend . . .coverage (a brief history of health insurance), measuring health care costs, pharmaceutical prices, evaluating the quality of care, and medicare reform. . . . The topics and chapters are so well conceived that the material remains highly informative and relevant despite [changes in the industry]. This outstanding, comprehensive resource on the U.S. health care system is sure to be of great value to students, educators, and scholars."
—Eugene C. Rich, M.D.(Creighton University Medical Center), in Doody Enterprises Book Review Service
"The authoritative book on the U.S.health care system. Any student, scholar, executive, or policymaker who wants to understand a particular phenomenon should consult it."
—Deborah A. Freund, vice chancellor and provost, professor of public administration, Syracuse University
"Under one cover can be found the basic data and research relevant to virtually all important health policy issues, as well sophisticated analytic material on current problems and their range of possible solutions."
—Steven A. Schroeder, M.D., president and CEO, The Robert Wood Johnson Foundation
See More
Learn more about