Nurture the Nature: Understanding and Supporting Your Child's Unique Core Personality
ISBN: 978-0-7879-8633-9
Hardcover
368 pages
April 2007, Jossey-Bass
US $24.95

Add to Cart
This price is valid for United States. Change location to view local pricing and availability.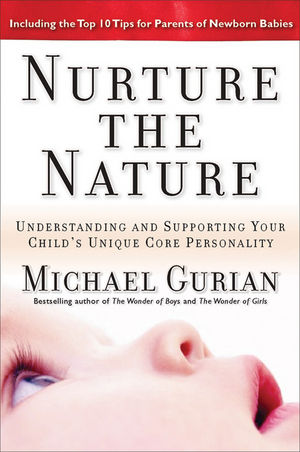 Noted author Gurian (The Wonder of Boys) here advocates that parents reject what he calls the "social trends parenting system"-i.e., following popular parenting fads-and instead focus on the unique talents, proclivities, and temperaments with which children are born. He spends a good deal of the book laying out the scientific aspects of personality and temperament, delving into recent brain research that, for instance, shows how gender and other factors play a role in personality development. While Gurian's overall message is worthy, many parents may find some of his recommendations confusing and even alarming. He seems to advocate for specialized medical tests, such as brain scans and blood tests, in the absence of any real reason for performing them, treating them as tools to help parents better understand a child's "core nature." His use of that term itself is problematic, as it sometimes refers to personality and other times to medical issues. His statements about certain areas of research and popular culture are also inaccurate, e.g., he misunderstands the Myers-Briggs Type Indicator, equating shyness with introversion. Still, parents may be able to take away the important and liberating idea that knowing your child is the best parenting advice of all. Fans of Gurian's other books will be pleased; those who want to understand better how personality affects child development would be better served by Elizabeth Murphy's The Developing Child.
—Rachel Davis, Thomas Memorial Lib., Cape Elizabeth, ME (
Library Journal
, May 1, 2007)
Family therapist Gurian (The Wonder of Girls) approaches his nature-based theme from a slightly different angle in his latest work, urging parents to buck "social trends parenting" and make decisions based on the core personality of their individual child. A researcher of brain science and gender differences, Gurian believes that much of a child's behavior is inborn from the start. But Gurian sees a disturbing trend in parents' increasing willingness to disregard their own instincts, letting media and society-driven fads dictate the way they raise their kids. In his own "clinical detective work," he has found that children are becoming bogged down by activity overload and the "material anxiety" that arises from trying to keep up with the latest designer fads or electronic gadgets. Gurian presents an in-depth, chapter-by-chapter analysis of child development, beginning at infancy and ending in early adulthood. Gurian's presentation is comprehensive and peppered with fascinating facts (i.e., how pheromones of biological fathers affect the onset of girls' puberty or how parts of a toddler's brain actually swell during a tantrum). The author's new text will help parents begin, in the tradition of Maria Montessori, to "follow the child," rather than adapt their kids to a contemporary one-size-fits-all mold.(May) (Publishers Weekly, April 2, 2007)
"As scientifically sound as it is humane."
—Harold S. Koplewicz, M.D., chairman, Department of Child and Adolescent Psychiatry, New York University School of Medicine, and founder and director, New York University Child Study Center
"Nurture the Nature is thorough, thoughtful, accurate, and brilliant. The science is sound and well researched."
—Daniel Amen, M.D., author, Making a Good Brain Great
"Michael Gurian has once again produced a magnificent book on children, this one showing us how to appreciate and indeed capitalize on the unique nature within each child. Nurture the Nature should be mandatory reading for parents who want their children to mature into happy, healthy human beings—which is of course all of us!"
—Dr. Tracey J. Shors, Department of Psychology, Center for Collaborative Neuroscience, Rutgers University
"Nurture the Nature is up-to-the-minute, filled with wisdom, and an intensely moral book, concerned with helping a child develop a sense of purpose in life, and promoting self-reliance and self-discipline in children. Both as a mother and a psychologist, I could not put this book down!"
—Judith Kleinfeld, professor of psychology, University of Alaska, and national director of The Boys Project
"As a parent myself, I believe one of the greatest challenges to parenting well is to see who your individual child really is. Nurture the Nature gives parents the ability to do just that—and to understand?the complex issues that shape our children today."
—Rosalind Wiseman, author, Queen Bees and Wannabes
"A wealth of practical advice on how to escape the competitive pressure of social trends parenting and instead nurture the core nature of your child."
—Michele Borba, Ed.D., author, 12 Simple Secrets Real Moms Know and Building Moral Intelligence