First-Time Leaders of Small Groups: How to Create High Performing Committees, Task Forces, Clubs and Boards
ISBN: 978-0-7879-8650-6
288 pages
April 2007, Jossey-Bass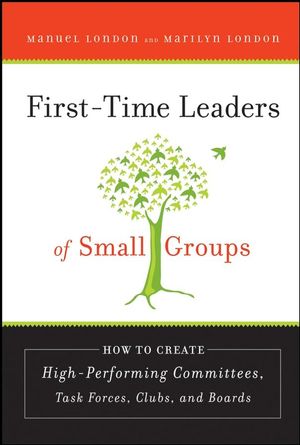 First-Time Leaders of Small Groups
offers novice and experienced leaders the information they need to keep their members interested and involved, resolve conflicts and deal with difficult people, and ultimately have their group achieve results . . . quickly. The book includes four steps for preparing to lead (selecting members, setting the groundwork for high performance, planning, and establishing your leadership style) and four steps for taking the lead (starting right, working smart, coaching, and assessing). These steps will help you take the lead with confidence.
First-Time Leaders of Small Groups
is filled with illustrative examples of a wide range of small groups and provides clear suggestions for action. The book includes:
Questions and answers based on research on what works well, and what does not
Diagnostics for determining your group's strengths and weaknesses
Leadership challenges—ideas for overcoming common difficulties
Self-assessments to help build confidence as a group leader
Examples of approaches for different group situations
Models for understanding how groups work
Activities for improving group functions
Key research findings
Easy-to-follow suggestions for practice
See More
Preface.
Acknowledgments.
About the Authors.
PART ONE: PREPARING TO LEAD.
1. Identifying Types of Groups and Their Leadership Challenges.
2. Setting the Groundwork for a High-Performing Group.
3. Planning Your Group's Development.
4. Determining Your Leadership Style.
PART TWO: TAKING THE LEAD.
5. Getting Off to the Right Start.
6. Working Smart.
7. Helping Your Group Learn to Get Better.
8. Assessing Your Group's Progress and Achievements.
Appendix A: Quick Start Guide.
Appendix B: Negotiation and Conflict Resolution Strategies.
Appendix C:A Primer on Giving and Receiving Feedback .
References.
See More
Manuel London
is associate dean of the College of Business, professor of management, and director of the Center for Human Resource Management at the State University of New York at Stony Brook. He is the author of Maximizing the Value of 360-Degree Feedback (edited with Walter Tornow), Developing Managers, Change Agents, Developing the Training Enterprise, and Career Management and Survival, all from Jossey-Bass.
Marilyn London is assistant dean for medical education at the State University of New York at Stony Brook.
See More
"This book was written for a wide audience and the information is applicable in any group setting." (
NACADA
, Nov 20, 2007) "The authors bring each of their unique perspectives and backgrounds to create a comprehensive guide to leading small groups. Recommended reading for both the novice and experienced group leader."
—Edward R. Del Gaizo, director, learning & development, KPMG LLP
"The authors in this book have given a gift to people who lead small groups and need immediate guidance about how to get the group going and moving toward its goals. This gift is well organized in understandable language with useful, on-the-mark, real-world examples."
—Fred Niziol, International Association of Facilitators, Mid-Atlantic Facilitators Network, and contributing author to The IAF Handbook of Group Facilitation
"Leaders and members of groups, from the most to least experienced, will find extraordinarily practical strategies and tactics presented in well-sequenced and organized chapters."
—Edward M. Mone, vice president, organization development, Computer Associates
"First-Time Leaders of Small Groups should not just be on every manager's bookshelf; it should be on their desks and in their briefcases so they can find it without even looking. Here is solid advice in ready-to-use format for how to lead the temporary and periodic groups we now use to run organizations."
—Robert J. Lee, managing director, iCoachNewYork; adjunct professor, New School and Baruch College, CUNY; former president and CEO, Center for Creative Leadership; founder and former president, Lee Hecht Harrison
"The Londons have captured a wealth of knowledge and real-world experiences about the work-ings of small teams."
—Kathy Free, facilitator, Social Security Administration
"A practical and easily adaptable book comprised of the latest research on teams, with actual examples and cases, as well as specific advice on how to effectively lead teams and groups. An excellent resource for new and experienced team leaders alike."
—LeAnne Bennett, executive leadership and development, Merrill Lynch
See More