Raising the Bar: Integrity and Passion in Life and Business: The Story of Clif Bar Inc.
ISBN: 978-0-7879-8671-1
368 pages
August 2012, Jossey-Bass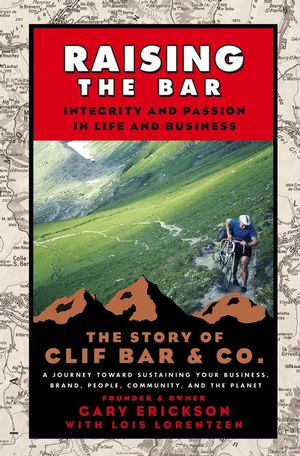 In April of 2000, Gary Erickson turned down a $120 million offer to buy his thriving company. Today, instead of taking it easy for the rest of his life and enjoying a luxurious retirement, he's working harder than ever. Why would any sane person pass up the financial opportunity of a lifetime?
Raising the Bar tells the amazing story of Clif Bar's Gary Erickson and shows that some things are more important than money. Gary Erickson and coauthor Lois Lorentzen tell the unusual and inspiring story about following your passion, the freedom to create, sustaining a business over the long haul, and living responsibly in your community and on the earth. Raising the Bar chronicles Clif Bar's ascent from a homemade energy bar to a $100 million phenomenon with an estimated 35 million consumers, and a company hailed by Inc. magazine as one of the fastest-growing private companies in the U.S. four years in a row. The book is filled with compelling personal stories from Erickson's life-trekking in the Himalayan mountains, riding his bicycle over roadless European mountain passes, climbing in the Sierra Nevada range--as inspiration for his philosophy of business. Throughout the book, Erickson--a competitive cyclist, jazz musician, world traveler, mountain climber, wilderness guide, and entrepreneur--convinces us that sustaining one's employees, community, and environment is good business.
If you are a manager, executive, business owner, or board member, Raising the Bar is your personal guide to corporate integrity. If you are a sports enthusiast, environmentalist, adventure lover, intrigued by a unique corporate culture, or just interested in a good story, Raising the Bar is for you.
See More
P rologue.
1 Send Them Home
(Or, Why Walk Away From $60 Million?)
2 The Epiphany Ride
(The Early Years of Clif Bar).
3 A Drifting Boat
(Getting Clif Back on Course).
4 White Road / Red Road
(A Philosophy for Life and Business).
5 Tales From the Road
(Nine Lessons and a Love Story).
6 Solo Climbing
(Maintaining Control for the Long Haul).
7 Sustaining Our Living Company
(Five Aspirations Business Model).
8 Moments of Magic
(The Jazz of Business).
Epilogue.
Appendix.
Resources.
Acknowledgments.
Index.
About the Authors.
See More
Gary Erickson
is the founder and owner of Clif Bar Inc., a company that made the Inc. 500—
Inc.
magazine's list of the fastestgrowing privately held companies four years running. Clif Bar Inc. remains one of the nation's fastest-growing private companies. He has been featured in
People
magazine,
Inc.
magazine,
Health, Fortune Small Business,
the
San Francisco Chronicle, Reader's Digest,
and in numerous other publications. Erickson is a frequent speaker in a wide variety of venues and has won numerous awards. He brings his background as a competitive cyclist, jazz musician, world traveler, gourmet cook, mountain climber, wilderness guide, and father to
Raising the Bar.
Gary Erickson lives in northern California with his wife, children, horses, dogs, and bikes.
Lois Ann Lorentzen is professor of social ethics at the University of San Francisco. She serves on the board of the Leo T. McCarthy Center for Public Service and the Common Good, the Center for Latino Studies in the Americas, and the Religion and Immigration Project. She has seven books to her credit, contributes frequently to magazines and journals, and has won numerous academic awards.
Erickson and Lorentzen first met while working for Sierra Treks, a wilderness organization. Over the course of their twenty-fiveyear friendship they have climbed mountains together, bicycled, skied, winter-camped, and talked about the dreams and values that define Clif Bar Inc. and Raising the Bar.
See More