Design That Cares: Planning Health Facilities for Patients and Visitors, 3rd Edition
ISBN: 978-0-7879-8811-1
504 pages
June 2016, Jossey-Bass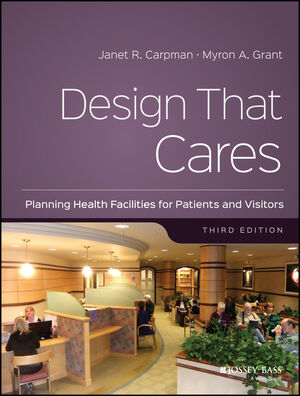 Design That Cares: Planning Health Facilities for Patients and Visitors, 3rd Edition is the award-winning, essential textbook and guide for understanding and achieving customer-focused, evidence-based health care design excellence. This updated third edition includes new information about how all aspects of health facility design – site planning, architecture, interiors, product design, graphic design, and others - can meet the needs and reflect the preferences of customers: patients, family and visitors, as well as staff. The book takes readers on a journey through a typical health facility and discusses, in detail, at each stop along the way, how design can demonstrate care both for and about patients and visitors. Design that Cares provides the definitive roadmap to improving customer experience by design.
See More
Acknowledgments xv
Foreword xvii
Authors' Introduction to the Third Edition xix
About the Authors xxi
Chapter 1: Introduction 1
Learning Objectives 1
Projections and the Direction of Healthcare 1
Healthcare: Changing Within 4
Design as a Component of High-Quality Healthcare 5
Designing for Patients and Visitors 7
Wayfinding Ease 9
Physical Comfort 9
Control over Social Contact 10
Symbolic Meaning 10
The Facility Design Process 10
Pre-Design Programming 10
Design 11
Concurrent Planning 12
Design Review 13
Construction 13
Activation 13
Post-Occupancy Evaluation 13
Summary 14
Discussion Questions 14
References 15
Chapter 2: A Look at Current Healthcare-Facility Design Research 19
Learning Objectives 19
Design Research in Relation to Current Trends in Healthcare 19
Focusing on Marketing 19
Valuing Healthcare-Facility Design 21
Sensitivity to Patient Experience 22
Recognizing the Role and Needs of Visitors 23
Emphasizing Accessibility and Universal Design 23
Conducting High-Quality Healthcare-Facility Design Research 24
Ensure That Research Is Planned and Carried Out by Trained, Experienced Researchers 24
See That the Research Builds On Existing Knowledge 25
If the Research Involves Clinical Investigations, Look Into Institutional Review Board Certification 25
See That the Research Has a Clearly Stated Purpose Related to Healthcare-Facility Design 25
Provide a Clear Research Design and Related Hypotheses 25
Carry Out the Project as Objectively as Possible 25
Skillfully Word Questions 26
Use Visual Images, if Possible 26
Carefully Sample Respondents 26
Make Sure Participants Give Informed Consent 27
Use State-of-the-Art Data-Collection Methods 27
Use Multiple Data-Collection Methods, if Possible 27
Use State-of-the-Art Data-Analysis Methods 27
State the Limitations of Findings and Their Generalizability 27
Consider Whether or Not the Research Is Replicable 28
Make Design Implications Explicit 28
Communicate Findings in a Way That Is Clear to Non-researchers 28
Research Claims 28
Integrating Design Research into the Design Process 29
Characteristics of a Humanistic Design Process 29
Objectives for Future Healthcare-Facility Design Research 31
Awards for Buildings Sensitive to User Needs 31
Training for Designers in Research Methods 31
Training for Researchers in Design-Relevant Research 32
Long-Term Studies of the Effects of Healthcare Facilities on Users 32
Translation of Research Findings into Design Guidelines 32
More Research Funding 32
International Research Agenda 32
Summary 32
Discussion Questions 33
References 34
Chapter 3: Arrival and Exterior Wayfinding 37
Learning Objectives 37
Traveling to a Healthcare Facility 37
Arriving by Car 38
Arriving by Taxi or Van 38
Arriving by Public Transit 38
Exterior Wayfinding 40
Exterior Signage 40
Environmental Cues 42
Exterior Handheld Maps 43
Main Entrance Drop-Off Area 45
Parking 46
Valet Parking 47
Parking Lots 47
Parking Structures 48
Park-and-Ride Options 49
Long-Term Parking Rates 49
Transition between Parking and the Building Entrance Area 49
The Main Entrance Area 50
Becoming Oriented 50
Access for People with Functional Limitations 52
Waiting in the Main Entrance Area 54
First Destinations 55
Information Desk 55
Admitting or Registration 55
Visitor Information 58
Summary 59
Discussion Questions 60
Design Review Questions 61
References 69
Chapter 4: Interior Wayfinding and the Circulation System 71
Learning Objectives 71
Finding One's Way through a Health Facility 71
Costs of Unsuccessful Wayfinding 73
Building Layout and Landmarks 76
Floor Numbering 77
Room Numbering 79
Sign Messages 81
Symbols and Pictograms 84
Sign Updating 85
Sign Spacing and Location 85
Interior You-Are-Here Maps 88
Color Coding 91
Signage and the Americans with Disabilities Act 93
Directions Given by Staff 93
Wayfinding during Periods of Construction 93
Wayfinding Technology 94
Corridor Functions and Amenities 94
Carpeting 95
Lighting 96
Handrails and Seating 97
Traveling from Floor to Floor 98
Elevators 98
Stairways 100
Unplanned Uses of Corridors, Elevators, and Stairways 102
Summary 103
Discussion Questions 104
Design Review Questions 105
References 114
Chapter 5: Reception and Waiting Areas 119
Learning Objectives 119
Entering a Reception and Waiting Area 119
Reception Areas 120
Waiting Areas 123
Size and Location 123
Waiting-Area Activities and Television 125
Seating Arrangements 126
Seating Comfort 128
Flooring, Wall Coverings, and Lighting 129
Waiting-Area Amenities 130
Main Lobby 137
High-Stress Waiting Areas 138
Summary 139
Discussion Questions 140
Design Review Questions 141
References 147
Chapter 6: Diagnostic and Treatment Areas 151
Learning Objectives 151
Accommodating Patients' Needs in Diagnostic and Treatment Areas 152
Undressing and Dressing 152
Waiting While Wearing a Hospital Gown 155
Maintaining Privacy 155
Optimizing Comfort 157
Considering Lighting 159
Reducing Noise 162
Listening to Music 164
Experiencing Positive Distractions 166
Using Digital Devices 168
Using Restrooms and Water Fountains 168
Facilitating Contact between Patients and Staff 169
Accommodating Companions 169
Summary 169
Discussion Questions 170
Design Review Questions 171
References 177
Chapter 7: Inpatient Rooms and Baths 183
Learning Objectives 183
Acute Care Inpatient Rooms 183
Size and Layout 183
Number of Occupants 190
Control Over Social Contact 191
Color 195
Lighting 199
Style in Healthcare Settings 202
Inpatient Room Furnishings 202
An Outside View 212
Reducing Noise on Acute Care Units 215
Using Music Therapeutically 215
Inpatient Bathrooms 220
Inpatient Lounges 226
Accommodating Visitors 228
Providing for Mealtimes 229
Providing a Place to Spend the Night 229
Family Lounges 229
Intensive Care Units 231
Providing Control Over Social Contact 232
Addressing Sensory Overload and Challenges of Maintaining Family Support 233
Reducing Noise in ICUs 235
Music in ICUs 240
Patient Comfort in ICUs 240
Addressing ICU Visitors' Needs 241
Summary 243
Discussion Questions 245
Design Review Questions 246
References 261
Chapter 8: Access to Nature 273
Learning Objectives 273
The Importance of Nature in Healthcare Facilities 274
Facilitating Recovery from Stress 275
Facilitating Recovery from Mental Fatigue 275
Valuing Access to Nature in Healthcare Facilities 279
Designing Outdoor Spaces for Healthcare Facilities 282
Planning and Designing Outdoor Areas during New Construction 283
Creating a Preferred Nature Setting 284
Bringing the Outdoors In 295
Views to the Outdoors 296
Summary 298
Discussion Questions 299
Design Review Questions 300
References 307
Chapter 9: Users with Disabilities 311
Learning Objectives 311
Statistics Regarding Users with Disabilities 312
Federal Legislation on Disability Rights 314
Americans with Disabilities Act 314
Patient Protection and the Affordable Care Act 315
Section 504 of the Rehabilitation Act of 1973 316
Designing to Comply with Federal Legislation on Disability Rights 316
Universal Design 317
Design Considerations for Patients and Visitors with Mobility Disabilities 323
Guidelines for Accessible Exam and Treatment Rooms 324
Guidelines for Accessible Medical Equipment 326
Design Considerations for Patients and Visitors with Hearing Disabilities 327
Design Considerations for Patients and Visitors Who Are Blind or Have Low-Vision 329
Design Considerations for Older Patients and Visitors 332
Physiological and Psycho-Social Changes 332
Design-related Issues for Older Patients and Visitors 334
Design Guidelines Regarding Older Patients and Visitors 335
Design Considerations for Obese Patients 348
Guidelines for Inpatient Rooms for Obese Patients 349
Guidelines for Furniture and Medical Equipment for Obese Patients 350
Summary 350
Discussion Questions 351
Design Review Questions 352
References 367
Chapter 10: Special Places and Services 373
Learning Objectives 373
Special Places 373
Food Service Areas 373
Sacred Spaces 376
Consultation and Grieving Spaces 377
Emergency Departments 379
Rehabilitation Units 391
Patient and Visitor Information Areas 394
Special Services 396
Overnight Accommodations 396
Shops 397
Hair Care 398
Fitness Centers 399
Spas 399
Summary 400
Discussion Questions 401
Design Review Questions 402
References 413
Chapter 11: User Participation in Healthcare-Facility Design 421
Learning Objectives 421
What Is User Participation in Design? 422
Benefits of User Participation 422
User-Experts in the Design Process 423
The Evolution toward Co-designing 425
Examples of User Participation in Healthcare-Facility Design 426
Developing a User Participation Process 429
Necessary Conditions 429
Mechanisms for User Participation 429
Techniques for Information-Gathering 431
Timing of User Participation 433
Selecting Participants 434
Managing User Participation 435
Implementing Resulting Recommendations 436
Documenting the User Participation Process 436
Summary 437
Discussion Questions 438
References 439
Index 443
See More
JANET R. CARPMAN, PHD, and MYRON A. GRANT, MLA are pioneering design researchers and wayfinding experts who have worked on hundreds of analysis, planning, and design projects in health facilities, museums, and other complex public facilities. Believing that designed environments should respond to the needs and preferences of the people who use them, Carpman and Grant have involved thousands of users in their work over the past 30+ years. They are authors of Directional Sense: How to Find Your Way Around and two previous editions of Design that Cares: Planning Health Facilities for Patients and Visitors. They are partners in Carpman Grant Associates, Wayfinding Consultants, which helps organizations create and manage facilities that optimize customer experience by making wayfinding as easy as possible.
See More
New topics to this edition: the patient's perspective, the visitor's perspective, the staff's perspective, evidence-based design, positive distractions, negative distractions, light, color, wayfinding, accessibility and universal design, multiculturalism, and consumer computer technology.
Faculty-friendly: chapters will include learning objectives, end-of-chapter summaries, and discussion questions.
Enhanced coverage: Furnishing of cost-effective, efficient facilities that serve patient needs; Product specification information for a range of design components--from floor coverings and ceilings to furniture, lighting, textiles, and more; green design, healing art, and therapeutic effects of landscape architecture
See More
Instructors Resources
Request a print evaluation copy
Contact us

See More
See Less