Conflict Resolution Quarterly, Volume 23, Number 4, Summer 2006
ISBN: 978-0-7879-8823-4
152 pages
July 2006, Jossey-Bass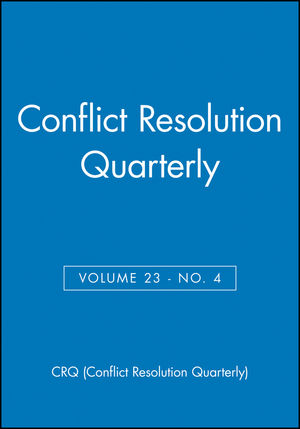 Conflict Resolution Quarterly, an official publication of the Association for Conflict Resolution (ACR), publishes quality scholarship on relationships between theory, research, and practice in the conflict management and dispute resolution field to promote more effective professional applications.
See More
EDITOR'S INTRODUCTION.
ARTICLES.
Dialogue and the Discourse of Peacebuilding in Maluku, Indonesia (Carmen Lowry, Stephen Littlejohn)
Following a prolonged conflict between Christian and Muslim communities in Maluku, Indonesia, religious leaders were brought together for a five-day session using dialogue processes to address community reconciliation and restoration. This article describes the process, the successes, and the challenges.
Conflict Resolution in a Non-Western Context: Conversations with Indonesian Scholars and Practitioners (Brett R. Noel, Ann Torfin Shoemake, Claudia L. Hale)
Indonesia was the context for a series of conflict resolution education interventions involving educators, conflict practitioners, and scholars. The authors offer their account of the processes used in planning, delivering, and reinforcing the conflict education programs in formal educational contexts.
Changing School Climate One Mediator at a Time: Year-One Analysis of a School-Based Mediation Program (Christina Cassinerio,Pamela S. Lane-Garon)
An exciting intervention in conflict resolution education in United States schools is the emphasis on linking university mentors and secondary or elementary students in learning conflict skills. This article reports on the success of an urban, middle-school–university mediation program.
Separation, Domestic Violence, and Divorce Mediation (Desmond Ellis,Noreen Stuckless, Lori Wight)
DOVE, an instrument designed to assess and manage the risk of domestic violence, was administered to a sequential, random sample of one hundred forty-seven male and female partners prior to their participation in divorce mediation. Safety plan interventions and referrals aimed at promoting women's safety during and following their participation in divorce mediation are discussed.
Seven-Phase Model of Conflict: Practical Applications for Conflict Mediators and Leaders (William D.Kimsey, Sallye S.Trobaugh, Bruce C.McKinney, Emily R. Hoole,Amy D.Thelk, Susan L. Davis)
The authors describe a seven-phase model of personal conflict over worldview, frame of irony, and styles in organizational settings. They elaborate on the utility of the model by referencing application in conflicts in church organizations.
Mediation with a Focus on Discursive Positioning (John Winslade)
Constructionist social theory and positioning theory form the basis for the arguments offered about the advantages of alternative theoretical bases for understanding conflict and building mediation practice. The author outlines goals for a narrative practice in mediation that is distinctive from existing models of mediation.
Conflict Coaching: Advancing the Conflict Resolution Field by Developing an Individual Disputant Process (Ross Brinkert)
What models and processes are available to conflict practitioners who are asked to assist an individual disputant in conflict, either in lieu of or in preparation for a dyadic or multi-party dispute resolution process? This article provides a definition and model of conflict coaching—an ADR model specifically tailored for use with the individual disputant. The utility of conflict coaching is explored in reference to executive coaching as well as in more conventional conflict resolution practices.
INDEX TO VOLUME.
See More