Women and Leadership: The State of Play and Strategies for Change
ISBN: 978-0-7879-8833-3
528 pages
August 2007, Jossey-Bass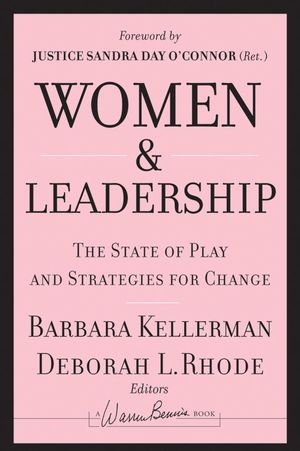 Women and Leadership
brings together in one comprehensive volume preeminent scholars from a range of disciplines to address the challenges involving women and leadership. These experts explore when and how women exercise power and what stands in their way. This groundbreaking volume offers readers an informed analysis of the state of women and leadership and offers the most informed and current thinking on
·        The perils of stereotypes
·        The importance of leadership style
·        Gender differences in the decision to seek leadership roles
·        Lessons from women leaders
·        "Opt out" patterns and the need for flexible career paths
·        Global inequalities and initiatives
·        Strategies that get women to the top 
Women and Leadership is indispensable for understanding recent progress  toward equal opportunity and the challenges that remain.
See More
Overview.
Introduction.
Keohane Teaching.
Pittinsky Teaching.
Carli Eagly Teaching.
Barnett Teaching.
Hill Teaching.
Norris Teaching.
Dahlerup Teaching.
Fox Teaching.
Marie Wilson Teaching.
Mandel Teaching.
Heifetz Teaching.
See More
Barbara Kellerman
is Research Director of the Center for Public Leadership and Lecturer in Public Policy at Harvard Universitys Kennedy School of Government. She served as the Center's Executive Director from 2000-2003. Kellerman has held professorships at Fordham, Tufts, Fairleigh Dickinson, George Washington, and Uppsala Universities. She also served as Dean of Graduate Studies and Research at Fairleigh Dickinson, and as Director of the Center for the Advanced Study of Leadership at the Academy of Leadership at the University of Maryland. She was awarded a Danforth Fellowship and three Fulbright fellowships. At Uppsala (1996-97), she held the Fulbright Chair in American Studies. Kellerman is author and editor of many books. She appears often on media outlets such as CBS, NBC, PBS, CNN, NPR, and BBC Radio; and she has contributed articles and reviews to, among others, the New York Times, the Washington Post, the Boston Globe, the Los Angeles Times, and the Harvard Business Review.
Deborah L. Rhode is the Ernest W. McFarland Professor of Law and Director of the Stanford Center on Ethics.  She is the former Director of the Keck Center on Legal Ethics and the Legal Profession at Stanford University School of Law; the former chair of the American Bar Association's Commission on Women in the Profession and the former president of the Association of American Law Schools.  She also served as senior counsel to the Minority members of the Judiciary Committee, the United States House of Representatives, on presidential impeachment issues. She is the second most frequently cited scholar on legal ethics and the National Law Journal has profiled her as one of the country's fifty most influential women lawyers.  She has received the American Bar Foundation's W. M. Keck Foundation Award for Distinguished Scholarship on Legal Ethics and Professional Responsibility, and the American Bar Association's Pro Bono Publico Award for her work on expanding public service opportunities in law schools. She  clerked for Supreme Court Justice Thurgood Marshall before she joined the Stanford faculty.  She is a former director of Stanford's Institute for Research on Women and Gender and writes primarily in the area of legal ethics and gender discrimination.  She is currently a columnist for the National Law Journal and Vice Chair of the Board of the NOW Legal Defense Fund.  She has also served as a trustee of Yale University and member of the board of Equal Rights Advocates. She is the author or coauthor of fifteen books and over 100 articles.
See More
"Moving from the theoretical to the practical, contributors also offer strategies that can increase women's presence in leadership positions across the globe. Highly recommended." (
Choice
, Jan 2008)
"This book is a good read for men and women from all professions." (Supply Management, Thursday 15th November 2007)
"This book is an important antidote for the conventional 'wisdom' and faulty 'science' reported in the media and in mass market trade books. It is must-reading for the informed public and particularly for young people positioned to become the leaders of the next generation."--Cynthia Fuchs Epstein, distinguished professor, Graduate Center, City University of  New York, and president,  the American Sociological  Association 2005-2006
"Now, for the first time, there is a compendium of thought as to why women in the United States are so vastly underrepresented in the halls of power, whether business, political, or religious. Women and Leadership is a must-read for anyone who cares about more balanced societies and better problem solving."--Christie Todd Whitman, former governor of New Jersey
"Kellerman and Rhode's fascinating book offers a fresh perspective on a troublesomely familiar question, 'Why are there not more women in leadership positions in the workplace and in society?' The value of the book is derived from how well it keeps its eye on the prize: work environments and societies in which everyone has the opportunity to give exactly what she (or he) has to contribute."--Gary N. Powell, professor of management and Ackerman Scholar, University of Connecticut
"Women and Leadership is an important, timely, and very refreshing contribution to a debate that should be over by now. This is certain to become a definitive work in the field."--Rosabeth Moss Kanter, Harvard Business School, and best-selling author of Confidence
"Women and Leadership is a rare and fascinating study. This remarkable new leadership resource moves us beyond the old 'glass ceiling' preconceptions of the past into a new understanding of challenge and opportunity for women."--Frances Hesselbein, chairman, Leader to Leader Institute
"American women have made impressive strides toward positions of authority and leadership, but they remain achingly far from the promised land. This book provides the most authoritative exploration yet published of the obstacles still in the way and strategies for overcoming them.  It is packed with insights and understanding from many of the best in the field--all pointing the way forward. Bravo!"--David Gergen, professor of public service and director, Center for Public Leadership, Harvard's Kennedy School    
See More
More in this series