Data Mining in Action: Case Studies of Enrollment Management: New Directions for Institutional Research, Number 131
ISBN: 978-0-7879-9426-6
136 pages
December 2006, Jossey-Bass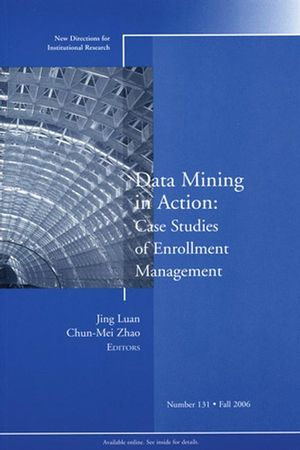 This volume introduces data mining through case studies of enrollment management. Six case studies employed data mining for solving real-life issues in enrollment yield, retention, transfer-outs, utilization of advanced-placement scores, and predicting graduation rates, among others. The authors furnish a tangible sense of data mining at work. The volume also demonstrates that data mining bears great potential to enhance institutional research. The opening chapter deciphers the similarities and differences between data mining and statistics, debunks the myths surrounding both data mining and traditional statistics, and points out the intrinsic conflict between statistical inference and the emerging need for individual pattern recognition and resulting customized treatment of students - the so-called new reality in applied institutional research.
This is the 131st volume of New Directions for Institutional Research, a quarterly journal published by Jossey-Bass.
Click here to see the entire list of titles for New Directions for Institutional Research.
See More
EDITORS' NOTES (
Jing Luan, Chun-Mei Zhao
).
1. Data Mining: Going Beyond Traditional Statistics (Chun-Mei Zhao, Jing Luan)
This chapter provides a comprehensive comparison between two different approaches to understanding data: data mining and traditional statistics. It clarifies some common misunderstandings about data mining as well as statistics and emphasizes the cornerstone notion that data mining is customized to individual differences whereas traditional statistics focuses on group differences.
2. Estimating Student Retention and Degree-Completion Time: Decision Trees and Neural Networks Vis-à-Vis Regression (Serge Herzog)
Focusing on student retention and time to degree completion, the study discussed in this chapter compares the prediction accuracy of data mining's decision trees and artificial neural networks with that of logistic regression. The study yields insights into the potential advantage of data-mining techniques over traditional statistics and illustrates how institutional researchers may benefit from the power of predictive analysis associated with data-mining tools.
3. Considering Student Mobility in Retention Outcomes (Sutee Sujitparapitaya)
The case study described in this chapter is of the initial attempt by a university to employ data-mining techniques to study a ternary attrition variable produced by integrating multiple internal and external databases. This effort has proved to be desirable and effective.
4. Applying Data Mining to Predict College Admissions Yield: A Case Study (Lin Chang)
Two questions related to the enrollment behaviors of the admitted applicants at a large state university were explored: Do admitted applicants enroll randomly? and Are certain admitted applicants more likely to enroll than others? Data-mining modeling processes were adopted and evaluated in comparison to the traditional logistic regression approach.
5. Expanding the Role of Institutional Research at Small Private Universities: A Case Study in Enrollment Management Using Data Mining (Christopher M. Antons, Elliot N. Maltz)
Data-mining techniques were successfully applied to enrollment management through a partnership comprising the admissions office, a business administration master's-degree program, and the institutional research office at a small university. Such an effort not only created a flexible enrollment management tool that could be effectively leveraged by admissions personnel and in-house institutional researchers but also resulted in a satisfactory achievement of both enrollment and revenue goals.
6. Using Data Mining to Explore Which Students Use Advanced Placement to Reduce Time to Degree (Paul W. Eykamp)
The widely held conventional wisdom is that undergraduates carrying advanced-placement units tend to have a shortened time to degree. This chapter explores how data mining can help examine how the lengths of student enrollment are associated with varying numbers of advanced-placement units. Several approaches, including traditional linear regression, decision tree, neural network, cluster analysis, factor analysis, and backward-looking group identification, were tested and evaluated.
7. Let the Data Talk: Developing Models to Explain IPEDS Graduation Rates (Brenda L. Bailey)
Predicted graduation rates provide meaningful contextual information in addition to the actual graduation rate in institutional comparison and benchmarking. The author describes data mining of Integrated Postsecondary Education Data Systems data to develop models that calculate predicted graduation rates for two- and four-year institutions.
8. Practicing Data Mining for Enrollment Management and Beyond (Jing Luan, Chun-Mei Zhao)
The case studies described in this volume have demonstrated the potential use and power of data mining in support of enrollment management. As a tour de force, data mining is likely to gain wider use in the next few years. To facilitate this, the editors made several recommendations addressed to both the Association of Institutional Research and institutional research professionals.
INDEX.
See More
Buy Both and Save 25%!
Data Mining in Action: Case Studies of Enrollment Management: New Directions for Institutional Research, Number 131 (US $29.00)
-and- Online Education For Dummies (US $21.99)
Total List Price: US $50.99
Discounted Price: US $38.24 (Save: US $12.75)
Cannot be combined with any other offers. Learn more.
Learn more about