Looseleaf
Helping Women Recover: A Program for Treating Addiction, Revised Edition
ISBN: 978-0-7879-9533-1
376 pages
June 2008, Jossey-Bass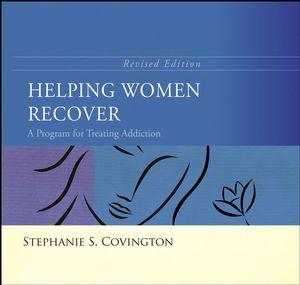 Since it was first published in 1999,
Helping Women Recover
has set the standard for best practice in the field of women's treatment.
Helping Women Recover
is based on Dr. Covington's Women's Integrated Treatment (WIT) model. It offers a program specifically designed to meet the unique needs of women who are addicted to alcohol and other drugs or have co-occurring disorders. This thoroughly revised and updated edition includes evidence-based and empirically tested therapeutic interventions which are used to treat addiction and trauma in an innovative way. The Helping Women Recover program offers counselors, mental health professionals, and program administrators the tools they need to implement a gender-responsive, trauma-informed treatment program in group therapy settings or with individual clients.
Included in SAMHSA'a National Registry of Evidence-based Programs and Practices.
See More
Preface vii
Acknowledgments xiii
1 Introduction to Addiction Treatment for Women 1
Historical Background: Why a Woman's Treatment Program? 1
What We Have Learned 5
Fundamentals of Gender-Responsive Services 12
Integration 30
The Value of Twelve Step Programs and Other Mutual-Help Groups 31
Research on Helping Women Recover 33
2 Facilitating the Program 37
Organization and Content of the Program 38
Principles of an Effective Treatment Program 44
The Role of the Facilitator 50
Module A: Self 57
1. Defining Self 63
2. Sense of Self 81
3. Self-Esteem 91
4. Sexism, Racism, and Stigma 101
Module B: Relationships 117
5. Family of Origin 121
6. Mothers 145
7. Mother Myths 153
8. Interpersonal Violence 167
9. Creating Healthy Relationships and Support Systems 183
Module C: Sexuality 199
10. Sexuality and Addiction 205
11. Body Image 227
12. Sexual Identity 241
13. Sexual Abuse 255
14. Fear of Sex While Clean and Sober 273
Module D: Spirituality 283
15. What Is Spirituality? 287
16. Prayer and Meditation 299
17. Creating a Vision 309
Appendix: Additional Recovery Resources 319
I. Five Primary Practices of the Oxford Group 320
II. The Twelve Steps of Alcoholics Anonymous 321
III. A.A. Slogans 322
IV. A Letter from Carl Jung to Bill Wilson 323
V. The Serenity Prayer 325
VI. The Synanon Prayer 326
VII. The Sixteen Steps for Discovery and Empowerment (Charlotte Kasl) 327
VIII. A New Version of the Twelve Steps (David Berenson) 329
IX. Thirteen Statements of Affirmation or Acceptance (Women For Sobriety) 330
X. SMART Recovery® 331
XI. Save Our Selves/(SOS) 332
References 333
Gender-Responsive Resource Materials 341
The Author 345
Index 347
Feedback Form 357
See More
Stephanie S. Covington, PhD, LCSW, is a nationally recognized clinician, author, and organizational consultant noted for her pioneering work on women's issues. As consultant to the Betty Ford Treatment Center, her work included the creation of a progressive and innovative program for women. She has trained mental health professionals in the United States, Mexico, Europe, Africa, and New Zealand. She is a board-certified Diplomate of the National Association of Social Workers and a member of the American Association of Marriage and Family Therapy.
See More