Textbook
Health Care in the United States: Organization, Management, and Policy
ISBN: 978-0-7879-9547-8
400 pages
April 2010, ©2010, Jossey-Bass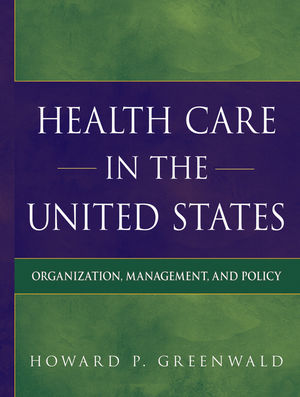 Health Care in the United States combines an explanation of population health with a comprehensive introduction to health services delivery. The author, an expert on health care policy and management, shows how the U.S. health services system is organized, managed, financed, and evaluated. Filled with numerous examples and tables, this important resource illustrates key concepts, trends, and features of the system. It places special emphasis on recent health care reform legislation and its implications for the future.
Health Care in the United States reviews the historical origins of health care, its resource requirements, costs, quality, and contributions to both individual and social well-being. By combining basic concepts in population health with coverage of health services, the book offers extraordinary breadth of information in a highly accessible, easy-to-read text.
Along with an in-depth look at the origins and possible impact of recent health reform legislation, the book explains the ongoing dilemmas that face the health care system and highlights health and disease in the modern world, the fundamentals of epidemiology, and health behavior. Health Care in the United States also explains the special challenges of managing health service personnel and organizations. The author reviews key innovations in financing and delivery, explaining the outcomes of cost sharing, HMO enrollment, and rationing of services.
This vital resource is written for students and professionals in health care management and policy, as well as public health, medical sociology, medical anthropology, social work, political science, and most, if not all, clinical fields.
See More
Tables and Figures.
Preface.
The Author.
Acknowledgments.
PART ONE: THE SYSTEM AND ITS TASKS.
1 Understanding Health Care.
Health Care as a National Concern.
Health Care Objectives and Goals.
Essential Challenges in Health Care.
Public Trust and Professional Ethics.
Three Perspectives on Management and Policy
2 The U.S. Health Care System: Features, Development, and Controversies.
The U.S. Health Care System's Magnitude.
Uniqueness of the System.
American Values and Health Care.
Controversies in U.S. Health Care.
3 Major Health Problems in Modern Society.
Conceptions of Health and Disease.
The Causes of Disease.
Nondisease Threats to Health, Function, and Survival.
Epidemiology: The Science of the Denominator.
Health and Illness in the Twenty-First Century.
Future Threats to Health.
4 Human Behavior, Health, and Health Care.
The Behavioral Dimension.
The Concept of the Sick Role.
Health Risk Behavior.
Use of Health Services.
Adverse Patient Behavior.
Health Literacy and Cultural Competence.
Complementary and Alternative Medicine.
Consumer Preferences and Health Care Marketing.
PART TWO: MEANS OF DELIVERY.
5 Health Care Organizations.
The Importance of Organizations in Health Care.
Health Service Industry Sectors.
Ambulatory Care Organizations.
The Hospital.
The Managed Care Organization.
Other Health Care Organizations.
Organizational Management in Health Care.
6 The Health Care Labor Force.
Health Care Labor Force Issues.
The Concept of Professionalism.
History, Background, and Challenges in Three Key Fields.
Clinicians as Managers.
The Health Care Labor Force: Facts and Figures.
Labor Force Dynamics in the Health Professions.
Professional Ethics, Oversight, and Discipline.
7 Health Care Expenditures, Financing, and Insurance.
Health Service Funding and Expenditures.
Health Care Costs: A Global Issue.
Cost Accelerators in the United States.
Health Insurance.
Additional Insurance Concepts and Terminology.
Medicare Specifics and Issues.
The Problem of Uninsurance.
Continuing Issues.
8 Biomedical Research and Program Evaluation.
The Importance of Research.
Principles of Experimental Design.
Modern Research Designs.
Program Evaluation.
Cost-Effectiveness and Cost-Benefit Analysis.
The Social and Economic Context of Research.
Science Gone Wrong: Error, Distortion, and Fraud.
PART THREE: PATHS FORWARD.
9 Impact of Innovation: Utilization, Cost, and Quality of Care.
Health Service Innovations: Strategic and Tactical.
Innovations and Health Service Objectives.
Outcomes of Strategic Innovation I: Selective Contracting.
Outcomes of Strategic Innovation II: Cost Sharing.
Outcomes of Strategic Innovation III: Managed Care.
Outcomes of Tactical Innovations.
10 Health Promotion and Disease Prevention.
The Appeal of Prevention.
The Scientific Rationale for Prevention.
Prevention in Practice.
Challenges to Prevention.
Does Prevention Save Money?
The Future: Prevention and U.S. Health Care.
11 Government, Policy, and Politics in Health Care.
Government and Health Care in the United States.
The Public Environment.
The Meaning of Public Policy.
Politics: The Driver of Public Policy.
Winning and Losing in Health Care Politics: Three Case Studies.
Lessons Learned.
The Case Against Government in Health Care.
12 Choices for the Future.
Opportunities and Barriers to Change.
Non-U.S. Health Care Systems: Challenges and Lessons Learned.
A System to Be Emulated? Concerns about Canada.
State-Level Initiatives in the United States.
Future Options and Controversies.
Glossary.
Notes.
See More
Howard P. Greenwald, Ph.D., is professor of management and policy in the School of Policy, Planning, and Development, University of Southern California, Los Angeles. He also is clinical professor, Department of Health Services, School of Public and Community Health, University of Washington, Seattle and a consultant in health care, organizational effectiveness, and program evaluation.
See More
Instructors Resources
Request a print evaluation copy
Contact us

Contact your Wiley Representative
Find Your Rep

See More
See Less
Buy Both and Save 25%!
Health Care in the United States: Organization, Management, and Policy (US $90.00)
-and- Designing Healthy Communities (US $60.00)
Total List Price: US $150.00
Discounted Price: US $112.50 (Save: US $37.50)
Cannot be combined with any other offers. Learn more.
Learn more about