Rethinking Programs for Youth in the Middle Years: New Directions for Youth Development, Number 112
ISBN: 978-0-7879-9620-8
Paperback
136 pages
February 2007, Jossey-Bass
US $29.00

Add to Cart
This price is valid for United States. Change location to view local pricing and availability.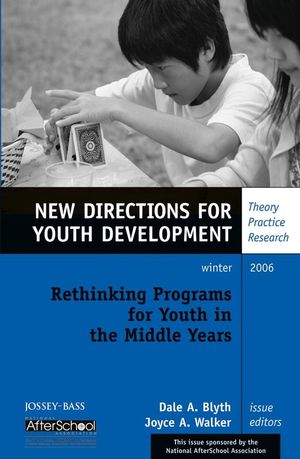 Editors' Notes (
Dale A. Blyth, Joyce A. Walker
).
Executive Summary.
1. Framing youth issues for public support (Ann Lochner, Susan Nall Bales)
Strategic frame analysis suggests new language and messages to advance the public understanding of the importance and role of quality programs to promote learning and development for youth in the middle years beyond what it is today.
2. Toward a new paradigm for youth development (Dale A. Blyth)
A diet-and-exercise analogy is proposed to more clearly elucidate the significance of learning and development and the synergistic role that adults and young people play in youth development programs in the after-school and out-of-school time.
3. What's up? What young teens and parents want from youth programs (Mary S. Marczak, Jodi Dworkin, Jennifer Skuza, Janet Beyer)
Young teens and their parents offer complex and often idiosyncratic reasons and insights into why they do or do not participate in structured activities.
4. Beyond access and supply: Youth-led strategies to captivate young people's interest in and demand for youth programs and opportunities (Rebecca N. Saito)
Young people are the marketing experts when it comes to understanding how to increase interest in and demand for youth programs and other learning opportunities to young teens.
5. Intentional youth programs: Taking theory to practice (Joyce A. Walker)
This theoretical framework suggests that young people such as those in the middle years are more likely to achieve developmental outcomes in out-ofschool programs if these programs deliberately build on the essential elements of intentionality, engagement, and goodness of fit.
6. Improving quality at the point of service (Charles Smith, Tom Akiva, Dominique Arrieux, Monica M. Jones)
A research-based construct of youth program quality is presented that differentiates safety, support, interaction, and engagement, four important issues for practitioners working with youth in the middle years.
7. Dilemmas of youth work: Balancing the professional and personal (Kathrin C. Walker, Reed W. Larson)
Youth practitioners face a wide range of dilemmas in their daily work, and they must be able to react intelligently in difficult situations when competing objectives, values, and warrants come into conflict.
Index.