Human Factors in Project Management: Concepts, Tools, and Techniques for Inspiring Teamwork and Motivation
ISBN: 978-0-7879-9629-1
368 pages
June 2007, Jossey-Bass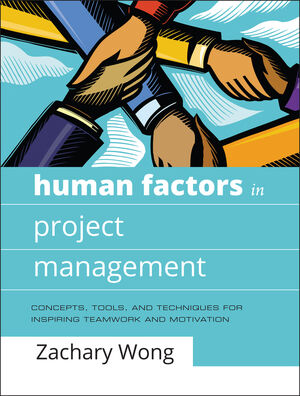 In
Human Factors in Project Management,
author Zachary Wong—a noted trainer and acclaimed leader of more than 250 project teams—provides a summary of "people-based" management skills and techniques that can be applied when working in a team environment. This comprehensive resource brings together in one book new and current models in team motivation and integrates the most significant concepts in team motivation and behaviors into a single set of principles called "Human Factors." Wong shows how these factors can be applied to the most challenging issues facing project managers today including
Motivating a diverse workforce
Facilitating team decisions
Resolving interpersonal conflicts
Managing difficult people
Strengthening team accountability
Communications
Leadership
See More
Acknowledgments.
The Author.
Introduction.
ONE: Emergence of Human Factors.
TWO: Human Factors and Team Dynamics in Project Management.
THREE: Key Elements of Team Performance: Content.
FOUR: Key Elements of Team Performance: Process.
FIVE: Key Elements of Team Performance: Behavior.
SIX: Secrets of Managing the Three Key Elements.
SEVEN: Key Stages of Team Development.
EIGHT: Moving the Team Forward: Facilitation Techniques.
NINE: Personal Space.
TEN: Team Conflicts.
ELEVEN: How Conflicts Affect Personal Space.
TWELVE: Expanding Your Space.
THIRTEEN: Managing Good and Bad Behaviors.
FOURTEEN: Raising Your Game.
FIFTEEN: Those Who Break Through Will Never Go Back.
SIXTEEN: Hearts and Minds of Human Factors.
SEVENTEEN: Personal Leadership: Putting It All Together.
Epilogue.
References.
Index.
See More
The Author
Zachary Wong, Ph.D., is a manager at the Chevron Energy Technology Company in Richmond, California. He is a highly acclaimed instructor of human factors and team dynamics at the University of California at Berkeley Extension.
See More
Foreword by Chevron CEO/Chairman David O'Reilly.

New and Unique Approach. Project management emphasizes process, and project management instruction has tended to downplay lessons from organizational behavior, team dynamics, multicultural diversity, and human personality. As a senior exec, Wong is the perfect evangelist for "soft" management lessons for technology and manufacturing project professionals.

Integrates well with PMBOK 3 and other key PMI training and texts. Wong looks at the "human side" of projects and shows how key concepts and tools can keep the project team from slipping into dysfunction.

Endorsed by Clara Piloto, Program Director for Project Management at UC-Berkeley, and a board member of the International Project Management Education Union of ten leading schools. 
See More
"This book will be a benchmark for those of us seriously striving to make the most of self-managed teams. Read this one with your notepad at hand."
—Norm Szydlowski, president and CEO, Colonial Pipeline Company
"An essential business guide for those committed to improving teamwork. Dr. Wong evaluates management styles, leadership skills, and conflict resolution, emphasizing the critical importance of positive, mutually beneficial interactions among team members as they pursue a common goal."
—Elizabeth M. Whelan, president, American Council on Science and Health
"Practical, insightful, and enlightening—a great resource for how teams should work and what to do if they don't."
—Carol J. Henry, vice president, Industry Performance Programs, American Chemistry Council
"This book is a great synthesis of many useful concepts and a must-read for anyone from the first-line supervisor to a CEO."
—Jeet S. Bindra, president, Global Refining, Chevron
"The days of the true autocrat are behind us. Here's today's how-to guide about leading and inspiring a team that cares about effort—and results!"
—Stephen A. Lundin, president and CEO, Alta Bates Summit Foundation
"Instead of a complex psychological methodology, Human Factors in Project Management is easy to follow with techniques that are instantly useful in furthering personal influence and improving project outcomes."
—Jim O'Donnell, vice president, MSI Learning; project management instructor, UC Berkeley Extension and San Francisco State University
"Human factors are too often overlooked as the 'soft skills' that are actually essential to develop and grow high-performance project teams—not anymore according to the words of wisdom espoused by Dr. Zachary Wong."
—Ray Ju, vice president programs, PMI Diversity SIG; leadership architect, Get IT LLC
See More
Instructors Resources
Request a print evaluation copy
Contact us

See More
See Less
Learn more about