Textbook
Fundamentals of Health Care Financial Management: A Practical Guide to Fiscal Issues and Activities, 3rd Edition
ISBN: 978-0-7879-9750-2
516 pages
January 2008, ©2008, Jossey-Bass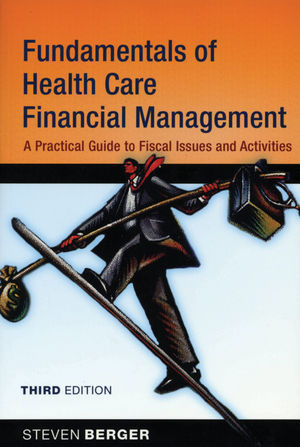 In this thoroughly revised and updated third edition of Fundamentals of Health Care Financial Management, consultant and educator Steven Berger offers a practical step-by-step approach to understanding the fundamental theories and relationships guiding financial decisions in health care organization. Set in a fictional mid-sized hospital, the book is written in diary form, taking the reader into the inner workings of the finance executive's office. This introduction to the most-used tools and techniques of health care financial management includes health care accounting and financial statements; managing cash, billings and collections; making major capital investments; determining cost and using cost information in decision-making; budgeting and performance measurement; and pricing. As in the previous editions, this book introduces key practical concepts in fundamental areas of financial management.
See More
Tables, Figures, and Exhibits ix
Preface xvi
Acknowledgments xix
The Author xxi
CHAPTER ONE: JANUARY 1
What Is Health Care? 4
What Is Management? 6
What Is Financial Management? 7
Why Is Financial Management Important? 8
Ridgeland Heights Medical Center: The Primary Statistics 9
Pro Forma Development 15
Living with the Finance Committee and Board of Directors' Calendar 32
Year-End Closing 35
CHAPTER TWO: FEBRUARY 43
Accounting Principles and Practices 45
Objectives of Financial Reporting 47
Basic Accounting Concepts 48
Basic Financial Statements of a Health Care Organization 50
Uses of Financial Information 51
The Financial Statements 52
Preparing for the Auditors 70
Analysis of Sensitive Accounts 72
February Finance Committee Special Reports 74
CHAPTER THREE: MARCH 81
Strategic Financial Planning: Five-Year Projections 84
RHMC Strategic Financial Planning 88
Ratio Analysis 95
The Capital Plan and Its Relationship to the Strategic Plan 109
CHAPTER FOUR: APRIL 116
Medicare and Medicaid Net Revenue Concepts 120
Calculation of Medicare and Medicaid Contractual Adjustments 126
Implications of the Balanced Budget Act of 1997 136
Implication of the Medicare Modernization Act of 2003 143
Managed Care Net Revenue Concepts 146
Preparation of the Medicare and Medicaid Cost Report 153
Ratio of Costs to Charges 158
Presentation of the Audited Financial Statements to the Finance Committee 160
CHAPTER FIVE: MAY 164
Fundamentals of Revenue Cycle Management 166
Patient Registration: To Which Division Should It Report? 181
Calculation of the Allowance for Doubtful Accounts and Bad-Debt Expense 183
Calculation of the Allowance for Contractual Adjustments 189
CHAPTER SIX: JUNE 194
Budget Preparation: The Beginning 196
Budget Calendar 197
Volume Issues 207
Capital Budgeting: June 211
Accounting and Finance Department Responsibilities 219
June Finance Committee Special Agenda Items 223
CHAPTER SEVEN: JULY 227
Budget Preparation: The Middle Months 229
Capital Budgeting: July 253
Regulatory and Legal Environment 255
Other Regulatory and Business Compliance Issues 259
Corporate Compliance 259
Accreditation Issues 262
Patient Satisfaction Issues 264
CHAPTER EIGHT: AUGUST 267
Capital Budget: August 269
Operating Budget 280
Budget Variance Analysis 283
Budget Variance Parameters 287
Flexible Budgeting 287
Cost Accounting and Analysis 289
August Finance Committee Special Agenda Items 296
CHAPTER NINE: SEPTEMBER 301
Operating Budget 304
Capital Budget: September 319
Cash Budget 319
Physician Practice Management Issues 323
CHAPTER TEN: OCTOBER 343
Information Systems Implications for Health Care Financial Management 345
Information Technology Strategic Plan Initiatives 349
HIPAA Implementation Issues 351
Selection of a New Health Care Information System 353
Budget Presentation to the Board Finance Committee 362
October Finance Committee Special Agenda Items 385
CHAPTER ELEVEN: NOVEMBER 387
Preparation of the Budget Results and Delivery to the Department Managers 390
Budgeting and Spreading Contractual Adjustments by Department 394
Issues Involving RHMC's Cost Structure 395
How to Improve the Organization's Cost Structure 401
Supply Chain Management in Health Care 411
Benefits of Tax Status for Health Care Organizations 415
Preparation and Implications of the Annual IRS 990 Report 419
CHAPTER TWELVE: DECEMBER 426
Getting Ready for Year-End Reporting—Again 431
Open-Heart Surgery Pro Forma 432
December Finance Committee Special Agenda Items 448
Looking into the Future of Health Care Finance 452
References 469
Index 472
See More
Steven Berger is the founder and president of Healthcare Insights, LLC, which specializes in the teaching of health care general and financial management issues. Healthcare Insights has also created INSIGHTS, the health care industry's best practice decision support software. With more than thirty years experience in the field, he presents health care finance and general management seminars throughout the United States and Canada. He is the author of numerous books and articles on the topic of health care finances.
See More
Learn more about