Using Academic Program Review: New Directions for Institutional Research, Number 86
ISBN: 978-0-7879-9920-9
110 pages
December 1995, Jossey-Bass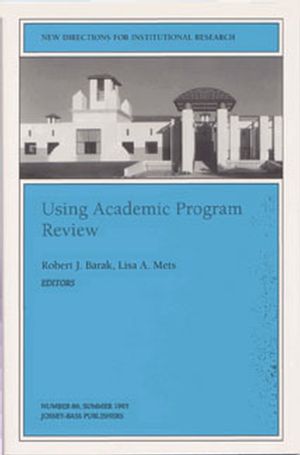 Much has been written about proper implementation of program review. Extensive advise is available to help those implementing or revitalizing program review processes to avoid common pitfalls and build strengths into the processes. A factor for gauging the effectiveness of program review is the extent to which results of program reveiws are used for other meaningful purposes. Literature on the use of review results is less prevalent. Institutional researchers and others need to know more about program review's role in program improvement and institutional decision-making. Questions that need to be answered include the following: Are the program review reports and recommAndations an integral part of the institution's budget process? What is the role of academic program review in strategic planning? Can the program review process be linked to the institution's outcomes assessment process? The purpose of this volume is to provide planners and institutional researchers with information on the uses of program review results in colleges and universities. This is the 86th issue of the quarterly journal New Directions for Institutional Research.
See More
ROBERT J. BARAK is deputy executive director, Iowa Board of Regents, Des Moines.
LISA A. METS is senior administrator in the Center for Research on Learning and Teaching at the University of Michigan, Ann Arbor, and a doctoral candidate in the University of Michigan Center for the Study of Higher and Postsecondary Education.
See More
Learn more about