Sustainable Swine Nutrition
ISBN: 978-0-8138-0534-4
508 pages
February 2013, Wiley-Blackwell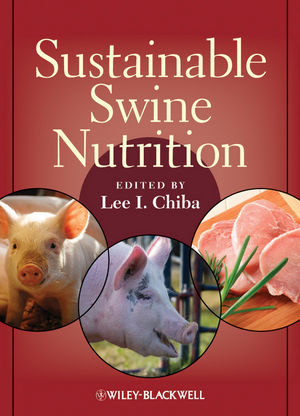 Finding sustainable means of swine nutrition is important to both pork industry personnel and the environment alike. This reference comprehensively covers the most recent advancements in sustainability that results in more efficient diets, thus reducing both production costs and waste. Chapters include information on alternative feedstuffs, feed additives, bioavailabity of nutrients, and management of wastes and odors. Written by internationally recognized experts in the field, Sustainable Swine Nutrition will be a valuable reference for those involved in all aspects of pork production.
Comprehensively covers the most recent advancements in sustainability to promote reduced pork production costs and waste
Covers recent topics such as alternative feedstuffs, feed additives, and bioavalability
Discusses environmental topics such as waste and odor management
Written by an international team of experts in the field
See More
Contributors ix
Preface xiii
Editor xv
Part I Fundamental Nutrition
Chapter 1 Water in Swine Nutrition 3
John F. Patience
Chapter 2 Energy and Energy Metabolism in Swine 23
Jean Noblet and Jaap Van Milgen
Chapter 3 Lipids and Lipid Utilization in Swine 59
Xi Lin, Mike Azain, and Jack Odle
Chapter 4 Amino Acids and Amino Acid Utilization in Swine 81
Nathalie L. Trottier and Rodrigo Manjar´ýn
Chapter 5 Carbohydrates and Carbohydrate Utilization in Swine 109
Knud Erik Bach Knudsen, Helle Nygaard Lærke, and Henry Jørgensen
Chapter 6 Vitamins and Vitamin Utilization in Swine 139
J. Jacques Matte and Charlotte Lauridsen
Chapter 7 Minerals and Mineral Utilization in Swine 173
Gretchen M. Hill
Chapter 8 Nutrition and Gut Health in Swine 197
Benjamin P. Willing, Gita Malik, and Andrew G. Van Kessel
Part II Nutrition for Successful and Sustainable Swine Production
Chapter 9 Diet Formulation and Feeding Programs 217
Sung Woo Kim and Jeffrey A. Hansen
Chapter 10 Alternative Feedstuffs in Swine Diets 229
Ruurd T. Zijlstra and Eduardo Beltranena
Chapter 11 Fiber in Swine Nutrition 255
Pedro E. Urriola, Sarah K. Cervantes-Pahm, and Hans H. Stein
Chapter 12 Enzymes and Enzyme Supplementation of Swine Diets 277
Oluyinka A. Olukosi and Olayiwola Adeola
Chapter 13 Feed Additives in Swine Diets 295
Gary L. Cromwell
Chapter 14 Bioavailability of Amino Acids, Lipids, and Carbohydrates in Feedstuffs 317
Dong Y. Kil, Sarah K. Cervantes-Pahm, and Hans H. Stein
Chapter 15 Bioavailability of Minerals and Vitamins in Feedstuffs 341
David H. Baker and Hans H. Stein
Chapter 16 Swine Nutrition and Environment 365
Ming Z. Fan
Chapter 17 Swine Nutrition and Pork Quality 413
Jason K. Apple
Chapter 18 Feeding Growing and Breeding Swine 439
Lee J. Johnston, Mark H. Whitney, Samuel K. Baidoo,and Joshua A. Jendza
Index 465
See More
Lee I. Chiba is Professor of Animal Sciences in the Department of Animal Sciences at Auburn University.
See More