Agricultural Sector Models for the United States: Descriptions and Selected Policy Applications
ISBN: 978-0-8138-0862-8
346 pages
January 1991, Wiley-Blackwell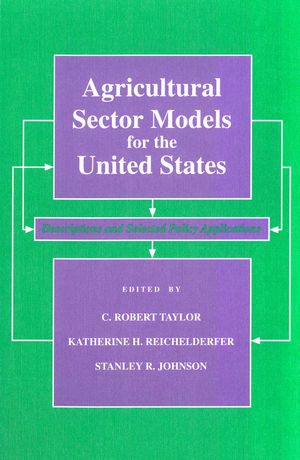 Introduction.
1 Model Description and Documentation.
2 POLYSIM: A National Agricultural Policy Simulator.
3 AGSIM: An Econometric-Simulation Model of Regional Crop and National Livestock Production in the United States.
4 AGMOD: An Econometric Model of U.S. and World Agriculture.
5 The CARD LP Model: A Documentation Summary.
6 The BLS Model Operated at CARD: A Documentation Summary.
7 The FAPRI Modeling System: A Documentation Summary.
8 General Design of COMGEM: A Macroeconomic Model Emphasizing Agriculture.
2 Policy Evaluation Exercises and Results.
9 Instructions to Modelers and Comparison of the Baselines.
10 Policy Evaluations with POLYSIM: Reduced Target Prices and Unilateral Free Trade.
11 Policy Evaluation Exercises with AGSIM.
12 AGMOD Policy Evaluation.
13 Policy Evaluations with the CARD LP Modeling System.
14 Policy Scenarios with the BLS Model Operated at CARD.
15 Policy Scenarios with the FAPRI Modeling System.
16 Application of COMGEM to Farm Policy Analysis.
3 Comparative Assessment.
17 A Comparative Assessment of Model Results.
18 Utility of Models for Policy Analysis and Decision Making.
See More