Covering Politics: A Handbook for Journalists
ISBN: 978-0-8138-0918-2
192 pages
August 2004, Wiley-Blackwell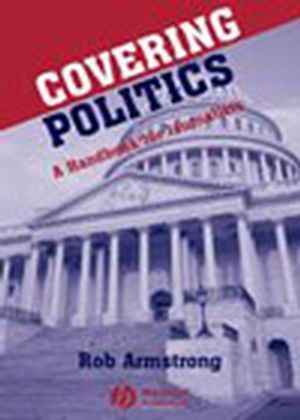 Covering the political and electoral process demands that political reporters thoroughly understand the process by which candidates run for office, political parties work, elections are held, the public policy agenda is shaped and how Americans select those who govern. But
Covering Politics
is more than candidates, parties, and elections. It's the regulation of the process, political advertising, spin, media manipulation, non-traditional parties and candidates, non-partisan offices, and the role of polling and other public opinion research.
Author Rob Armstrong discusses the process as well as the day-to-day operation of political organizations, campaigns, strategists, consultants, pollsters, and the role of the reporters covering them all. The book probes the potential pitfalls that lurk for unsuspecting or naive reporters. Yet most of all, Covering Politics focuses on covering politics. In four insightful chapters throughout the book, Armstrong gives a "Roadmap for Reporters." These "Roadmaps" discuss reportorial problems likely to be encountered and offer strategies, techniques, and tactics for better, more complete coverage.

As an added bonus, more than a dozen interviews are included from noted reporters, politicians, and academics, both inside and outside Washington, D.C. These reporting veterans share their real-world experience and practical, hard-nosed advice. Conversations with veteran political reporters include:



Bob Schieffer

David Broder

Jamie Dupree

Brit Hume

Brian Lamb

Elaine Povich

Candy Crowley

Marvin Kalb

Covering Politics: A Handbook for Journalists is the ideal resource for current and future reporters before they hit the campaign trail. .
See More
Rob Armstrong is the retired professional in residence in the Communications Department at Flagler College, St. Augustine, Florida. Author of five previous books, including Covering Government: A Civics Handbook for Journalists, Armstrong was an on-air radio and television correspondent for CBS News for 25 years. With the U.S. Congress and national politics as his principal beats, Armstrong covered nine presidential nominating conventions, four presidential campaigns, and such political benchmarks as the resignation of House Speaker Jim Wright and the Republican sweep of the House and Senate in 1994.
See More