Minimally Invasive Dental Implant Surgery
ISBN: 978-0-8138-1452-0
464 pages
December 2015, Wiley-Blackwell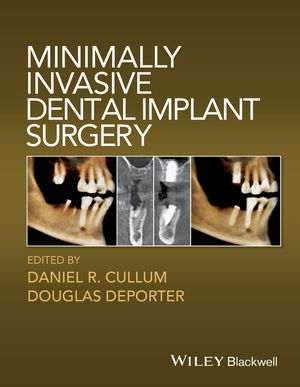 Minimally Invasive Dental Implant Surgery presents a new clinical text and atlas focused on cutting edge and rapidly developing, minimally invasive treatment modalities and their applications to implant dentistry. Centered on progress in imaging, instrumentation, biomaterials and techniques, this book discusses both the "how to" as well as the "why" behind the concept of minimally invasive applications in implant surgery.

Drawing together key specialists for each topic, the book provides readers with guidance for a broad spectrum of procedures, and coalesces information on the available technologies into one useful resource. Minimally Invasive Dental Implant Surgery will be a useful new guide to implant specialists and restorative dentists seeking to refine their clinical expertise and minimize risk for their patients.
See More
Contributors, vii
Memorial, viii
Foreword, ix
Preface, x
Acknowledgments, xi
Copyright note, xii
Section I: Technology, Diagnosis, and Treatment Planning
1. Diagnosis and Treatment Planning for Minimally Invasive Dental Implant Treatment, 3
Jean-Francois Bedard & Daniel R. Cullum
2. Diagnostic Imaging for Patient Evaluation and Minimally Invasive Treatment Planning, 28
Scott D. Ganz
3. Risk Assessment and Avoiding Complications, 51
David Dara Yarmand, Douglas Deporter, & Daniel R. Cullum
4. The Provisional Restoration: A Diagnostic, Functional, and Esthetic Template, 66
Aldo Leopardi & Daniel R. Cullum
Section II: Technology and Surgery
5. Extraction Site Management for Ridge Preservation and Implant Site Development, 89
Barry Bartee & Daniel R. Cullum
6. Engineering Biologic Width and Tissue Levels with Implant and Abutment Surface Preparation, 107
Myron Nevins, Cary A. Shapoff , Khalid Al Hezaimi, & David M. Kim
7. Recombinant Human Bone Morphogenetic Protein-2 or Recombinant Human Platelet-Derived Growth Factor BB in Extraction Site Preservation and Bone Augmentation, 119
Craig M. Misch, Marc L. Nevins, & Jason A. Boch
8. Periodontal and Peri-implant Soft Tissue Surgery, 137
Giles Horrocks, Christine Cole, & Daniel R. Cullum
9. Minimally Invasive Implant Surgery Using Computer-Guided Technology, 169
Gary Orentlicher, Andrew Horowitz, & Marcus Abboud
Section III: Optimizing Anatomical Limits with Short, Narrow and Angled Implants
10. Short Implants, 193
Douglas Deporter
11. Narrow Implants, 208
Joerg Neugebauer, Douglas Deporter, & Daniel R. Cullum
12. Minimally Invasive Complete Arch Treatment: The Versatility of Angled Implants, 219
Ole T. Jensen & Daniel R. Cullum
13. Wedge Implants and Piezoelectric Surgery: A Minimally Invasive Implant Concept for the Treatment of Narrow Alveolar Ridges, 227
Tomaso Vercellotti & Claudio Stacchi
Section IV: Implant Site Development
14. Single-Stage Implant Placement and Simultaneous Grafting: The "Esthetic Contour Graft ", 241
Bach T. Le & Sze Wing Cynthia Au Yeung
15. Trans-Alveolar Sinus Elevation and Contiguous Sinus Floor Elevation, 251
Daniel R. Cullum & Douglas Deporter
16. Ridge Expansion, 285
Daniel R. Cullum
17. Ridge Expansion Combined with Trans-Alveolar Sinus Elevation, 311
Daniel R. Cullum
Section V: Immediate Implant Reconstruction
18. Immediate Implant Placement for Single- and Multi-Rooted Teeth, 337
Daniel R. Cullum & Douglas Deporter
19. Immediate Esthetic Zone Tooth Replacement, 367
Daniel R. Cullum & Howard Park

Section VI: Comprehensive Applications of Minimally Invasive Surgery
20. Skeletal Anchorage and Orthodontics in Implant Site Development, 387
Michael P. Chaff ee & Daniel R. Cullum
21. Minimally Invasive Comprehensive Treatment: Case Studies, 412
Daniel R. Cullum & Earl Ness
Index, 443
See More
Daniel R. Cullum, DDS, maintains a private oral and maxillofacial surgery practice and Implants Northwest LIVE training center in Coeur d'Alene, Idaho, specializing in immediate and minimally invasive dental implant reconstruction. A Diplomate of the American Board of Oral and Maxillofacial Surgery and visiting lecturer at Loma Linda University and UCLA, he has written book chapters and peer-reviewed journal articles related to implant reconstruction and speaks internationally.

Douglas Deporter, DDS, is Professor, Discipline of Periodontics, Faculty of Dentistry, University of Toronto, Ontario, Canada. He and his colleagues at the University of Toronto developed a shorter implant design that revolutionized implant dentistry in the 1980s, allowing more patients to be eligible for predictable implant therapy. Dr. Deporter has published more than 100 peer-reviewed articles on the subjects of periodontics and dental implants and is an invited speaker at international conferences.
See More