Nutrition in Epigenetics
ISBN: 978-0-8138-1605-0
Hardcover
384 pages
June 2011, Wiley-Blackwell
US $209.95

Add to Cart
This price is valid for United States. Change location to view local pricing and availability.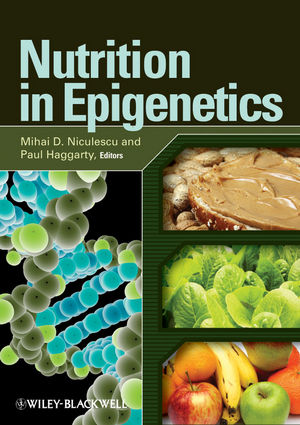 Contributors.
1. Introduction (Mihai D. Niculescu and Paul Haggarty).
PART I: Fundamental Principles in Epigenetics.
SECTION A: Epigenetic Mechanisms.
2. DNA Methylation (Natalia V. Cucu).
3. Chromatin Modifications (Sandra B. Hake).
4. Roles of RNAi and Other MicroRNAs in the Regulation of Epigenetic Processes (Muller Fabbri).
5. Epigenetic Inheritance: Both Mitotic and Meiotic (Nina J. Kaminen-Ahola, Arttu I. Ahola, and Emma Whitelaw).
SECTION B: Development Epigenetics.
6. Developmental Epigenetics: Roles in Embryonic Development (Liliana Burlibaşa and Lucian Gavrilă).
SECTION C: Epigenetic Mechanisms in Disease.
7. Epigenetics, Nutrition, and Cancer (Amy R. Johnson).
8. Metabolic Syndrome, Obesity, and Diabetes (Karen D. Corbin).
9. Autoimmunity (Donna Ray and Raymond Yung).
10. Cardiovascular Diseases (Aurelian Bidulescu and Methode Bacanamwo).
PART II: Nutritional Status and Specific Nutrients.
SECTION A: Maternal Nutrition and Fetal Development.
11. Maternal Nutrition and Developmental Outcomes (Shannon L. Haley, Laurie J. Moyer-Mileur, Robert H. Lane, and Lisa A. Joss-Moore).
SECTION B: Role of Specific Nutrients.
12. Folate, Vitamin B12, and Vitamin B6 (Patrick J. Stover).
13. Dietary Choline, Betaine, Methionine, and Epigenetic Mechanisms Influencing Brain Development (Steven H. Zeisel).
14. Epigenetic Regulation by Retinoids (Amandio Vieira).
15. We are WhatWe Eat: How Nutritional Compounds Such As Isoflavones Shape Our Epigenome (Carlos M. Guerrero-Bosagna and Susan J. Clark).
16. Isothiocyanates and Polyphenols (Nigel J. Belshaw and Ian T. Johnson).
SECTION C: Macronutrient Intakes.
17. The Effect of Maternal Macronutrient Intake on Phenotype Induction and Epigenetic Gene Regulation (Karen A. Lillycrop, Mark A. Hanson, and Graham C. Burdge).
SECTION D: Environmental Exposures.
18. Epigenetic Manifestation of Environmental Exposures (Dana C. Dolinoy, Olivia S. Anderson, and Laura S. Rozek).
SECTION E: Epidemiology of Nutritional Epigenetics.
19. Epigenetics, Nutrition, and Reproduction: Short- and Long-Term Consequences (Paul Haggarty).
20. Nutrition, Epigenetics, and Cancer: An Epidemiological Perspective (Audrey Jung and Ellen Kampman).
Index.