Journalism Across Cultures
ISBN: 978-0-8138-1999-0
249 pages
August 2003, Wiley-Blackwell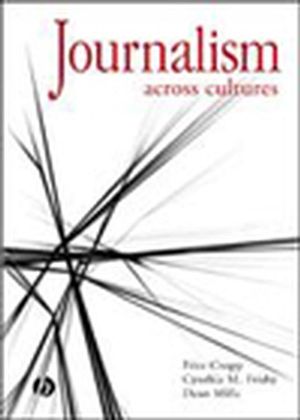 Even the most fair-minded journalists can find it difficult to get past cultural stereotypes. The ability to see through stereotypes with fair and accurate reporting is becoming imperative in today's shrinking global community.
Journalism Across Cultures
will help journalists and future journalists better serve their audiences by examining cultural paradigms. This text is aimed at undergraduates in international or cross-cultural journalism courses and provides a comprehensive overview of journalism issues across lines of race, culture, gender, age, sexual orientation, and ideology.
Assembled by a diverse panel of experts, this primary text provides a synopsis of research into the coverage of minorities. It offers a report on an innovative approach to improved coverage of minorities through journalist and researcher collaboration. Authors also examine the news coverage of women, using this coverage as an example to describe the varying academic theories by which news content about any subject can be studied.

The text does not stop there, but probes other individual underrepresented groups, analyzes the history of their coverage, and offers recommendations and resources for improved coverage. This book helps achieve the goal of better journalism by fostering an understanding of the wide mix of cultures that today's media serves
See More
Chapter 1, "Covering the Undercovered: The Evolution of Diversity in the News," Ronald B. Kelley and Dean Mills; Chapter 2, "Gender and the Media: A Look at Representation, Coverage and Workplace Issues," Jan Colbert; Chapter 3, "A Problematic Press: Latinos and the News," Mercedes Lynn de Uriarte; Chapter 4, "Media Coverage of Arabs and Arab Americans," Wesley G. Pippert; Chapter 5, "The Changing Coverage of Gay, Lesbian, Bisexual and Transgendered Communities," Roy Aarons; Chapter 6, "Just Don't Call 'EM 'Old Folks'," Kent S. Collins; Chapter 7, "Taking the Mystery out of Native American Coverage," Teresa Trumbly Lamsam and Dennis McAuliffe Jr.; Chapter 8, "Religion," Judith M. Buddenbaum; Chapter 9, "The Changing Faces of Advertising: Minority Images and the Media," Cynthia M. Frisby; Chapter 10, "People with Disabilities," Elizabeth Wissner-Gross, with contributions by Alexander Wissner-Gross; Chapter 11, "From a Troubled Past to a Confused Present: The Need for Better Coverage of Asian Americans," Fritz Cropp
See More
Fritz Cropp, Ph.D. directs the International Programs office at the University of Missouri-Columbia School of Journalism, where he also is an assistant professor of advertising. Cynthia Frisby, Ph.D. is an assistant professor of advertising at the University of Missouri-Columbia School of Journalism. Dr. Frisby teaches courses in advertising, media planning and media sales. Dean Mills, Ph.D. has been professor and dean at the School of Journalism at the University of Missouri-Columbia for 13 years.
See More